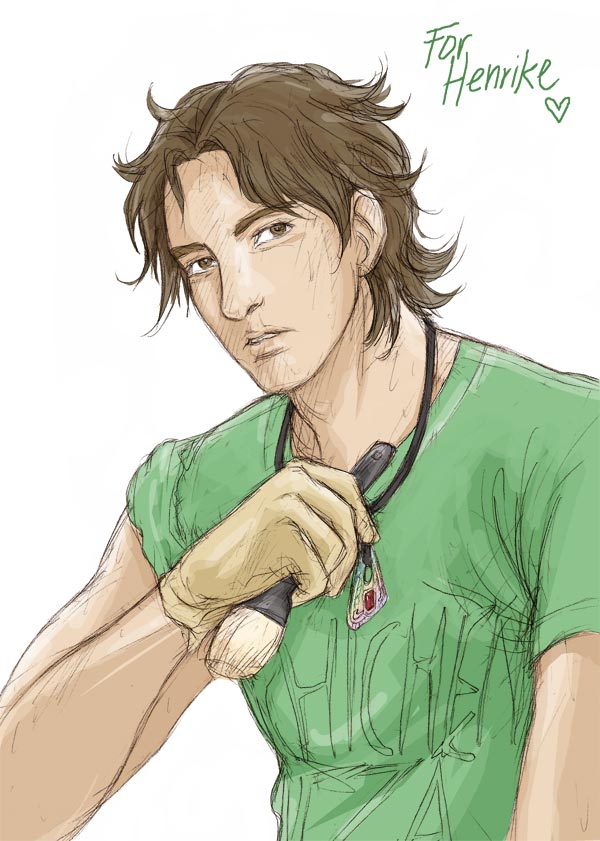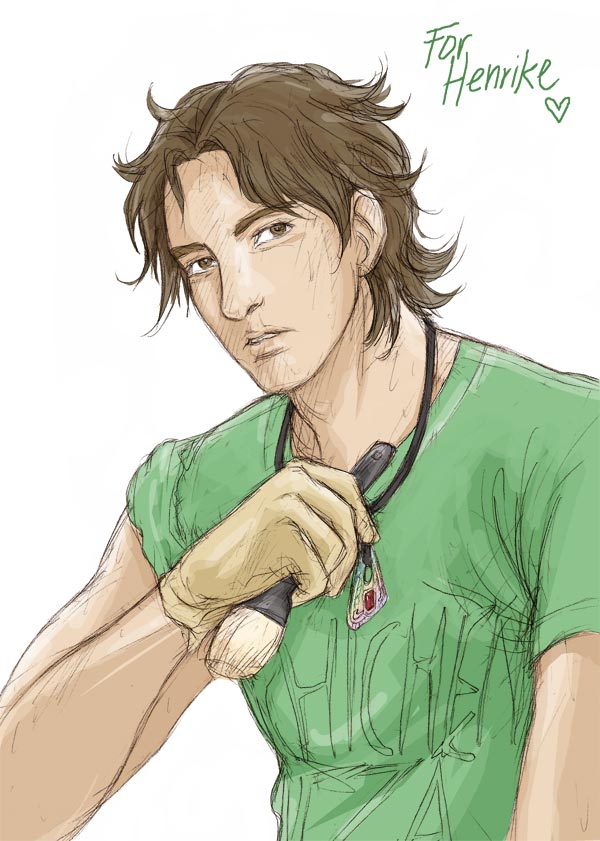 ah!! this is a surprise for

, who is a very sweet friend of mine! niels, the character from her ongoing webcomic, is an archaeologist who got stranded in the land of ianua (hope i got the facts right!!

). oh, and he's such a hunk too!
about the pendant he's holding, i kind of had it in mind that it's some sort of key to solving the mystery of ianua. im not sure if it's relevant to henrike's story, so never mind if it's not!

and since he's an archaeologist, i gave him a t-shirt that reads "chichen itza" (NOT chicken heheh..)
hope you like it!


this is suuuch a nice picture!!!

do moreee!

Reply

awesome!
love the sketchiness!

Reply

Never knew that archaeologists could be so good looking. X3 Great job Andie!
Reply


Andie you`re awesome! I`m still amazed by the picture! It`s cool seeing him in a different style but still recognizable

You got it right with the story, except for the fact that Niels lives on Ianua.

No big deal though
I love the little details like the text on his shirt, the brush and the pendant!



Thank you!!!
Reply
oh, im glad you can still recognise him!! and once again sori for the facts getting mixed up

i guess it's just different when you make a deviation with heart---you had so much more fun doing it!

Reply

It`s allright about the facts. I can imagine it`s kind of confusing when you see characters and hear stuff about them but never actually read the story.
Me, more fun? Yeah, I loved trying to make Bishop look like herself but I hope you had fun too.

The picture is on my desktop now! I start squeeling every time I start up my computer

Reply
ok, i gave up archeology studies because it was boring but maybe i will try again!!


Reply
wow! you did archaeology? that must be fun.... or not

well, i like archaeology so much, lucky you tartine! (my only problem is... i can't stand lizards. so there goes my chance!

)
Reply


lizards, yes that's a problem!!
in fact i've studied archeology for 2 years and well, when i discovered that if you're not a genius you finish in the middle of nowhere... well it kinda discourage me!

the other fact was that there's no cute guys in archeology


no indiana jones!!! shaaaaame
Reply
but you dont have to be a genius to be an archaeologist, right? that confuses me

no cute guys at alll??? oh no.... are the students mostly male or female?
oh and tartine, the french are always so good and supportive when it comes to unearthing history! in fact, in the story i made about underwater archaeology, the boat is provided by the french ministry of culture

are there any such departments in france though???

heheheh
Reply
you're lucky because there such a departement in france!


i remember watching a documentary in school about excavations in Alexandrie and i thought whoa this is what i want to do!!! but unfortunately, no cute guys all... in fact only girls or very rare,men who aren't under 60 years old!!

i should have done law, i kew it!!


Reply
wow, law??? that's even got less cute guys than archaeology, right??

yay! buhuhuh, i want to do archaeology too! what sort of archaeology did you take? maybe i can ask you questions about techniques

Reply
all cute guys are in law!!!!

what a shame!!
oh you can ask questions but i don't really know if i remember everythig

let me think...i take medieval, egyptian, midle east (the only too things really cool!!), and greek archeology!!
i learnt lots of things but searching on the ground is not really my thing...

Reply

SO COOL!!! I love how you draw faces *___*
Reply