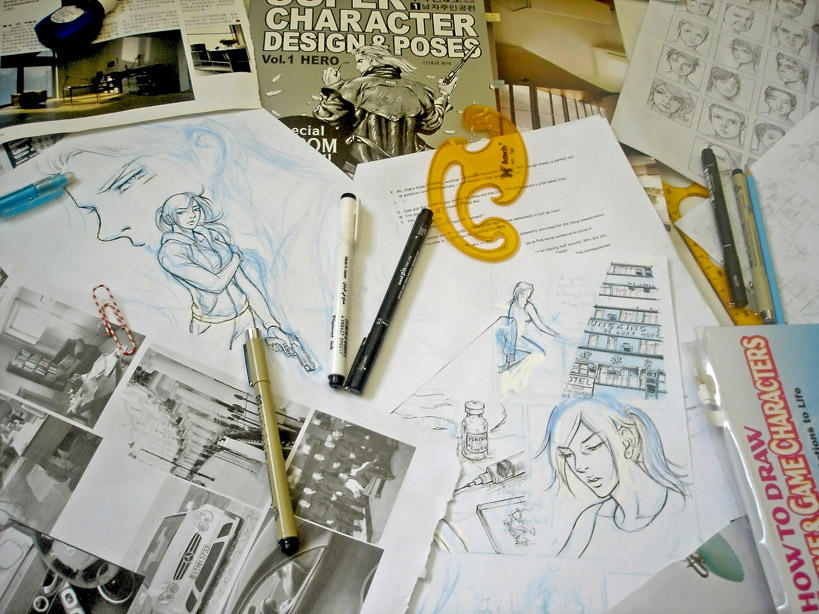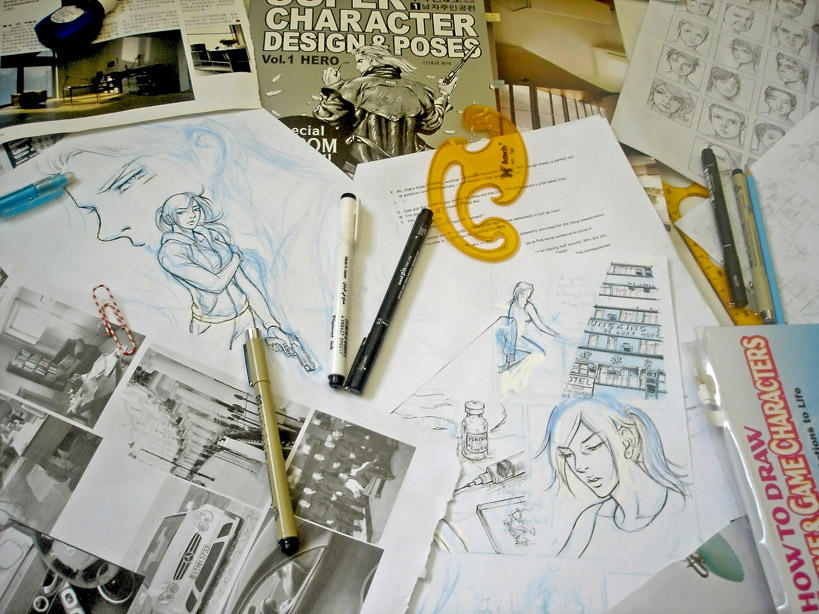 Watch
some of the weapons i took to war with me XD

i normally assume a 'drawing spot' right on the floor next to my bed, so my bedroom is filled with piles of paper, pens, and reference materials such as pictured above. ah, what a mess! XP

Reply

iya inilah senjataku saat pergi berperangg

Reply

That always looks so awesome! I love those inked drawings, they look so crispy and professional!

Awesome!!
Reply

You have been drawing for the past years *tear* lol OHHHHHH I see you have improved alot! *EXCITED* lol

OHHHHHH your room must be a pit...jks...atleast your drawing like mad...I havent found the right motivation to get me started again :-/ ESPECIALLY for my OC's
Reply

Why not dear?? Perhaps doing some research into their personalities and motivations can do the trick? I always love judging fictional people's characters thru their temperaments --> extravert/introvert, sensing/intuitive, thinking/feeling and judging/perceiving. These I find useful in knowing what the charas are like better

Reply

OHHHHHHHHH dont get me wrong, I have all that down, their motivations, personalities etc its just finding the right motivation for me to draw them! I think its mainly because I want them so perfect that in my head they are already drawn but when it comes for me to try draw them on paper and then I get it wrong makes me give up quite so easily!!! But im trying not to do that anymore its draging me down. But since your back I have some motivation to try again!

<3
Reply

AHAHA sorry i got that wrong!

yes i get that feeling when you just dont want to have anything to do with your OCs... but now let's have some more of them! i'll be waiting!

Reply

YES once I stop making excuses to do other things then Ill start right away lol...Another reason why Im failing. BUT I have finally sketched them up last night SOOOO thats got to be something *PROUD* lol

Thanks <3
Reply

Nice mess! All my refs are digital, I like how old-school you are...

Reply

weleh2 penasaran ama penggaris khususnya....
Reply

he? it's nothing special, just a drafting ruler you can find at almost any bookstore in jakarta

Reply
ahah looks like my desk!!
Looks like you have some great reference material!
Reply

whats that book you have there? "Character design and poses"
Reply

the full title is "super character design and poses vol.1: hero", it's a sort of 'how to draw manga' book by you kusano but the edition i have is korean (i bought it when visiting south korea last year).
i like kusano's drawing style, but his works are so hard to find online (including this book). so it's too bad!

Reply