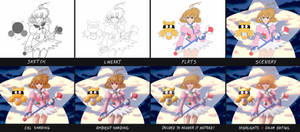 Yomi's Step by Step Pics + WIPs!
Thank you for stopping by! 😁 Feel free to subscribe to check out the process behind my art and get a Portfolio Review (+ Tips to improve your art!) as a welcome gift at the cost of a modest monthly donation! 🚀✨
---
Suggested Premium Downloads

Description
A friend needed some suggestions for her looks in LARP games. Pencilwork.
Image size
551x999px 842.11 KB