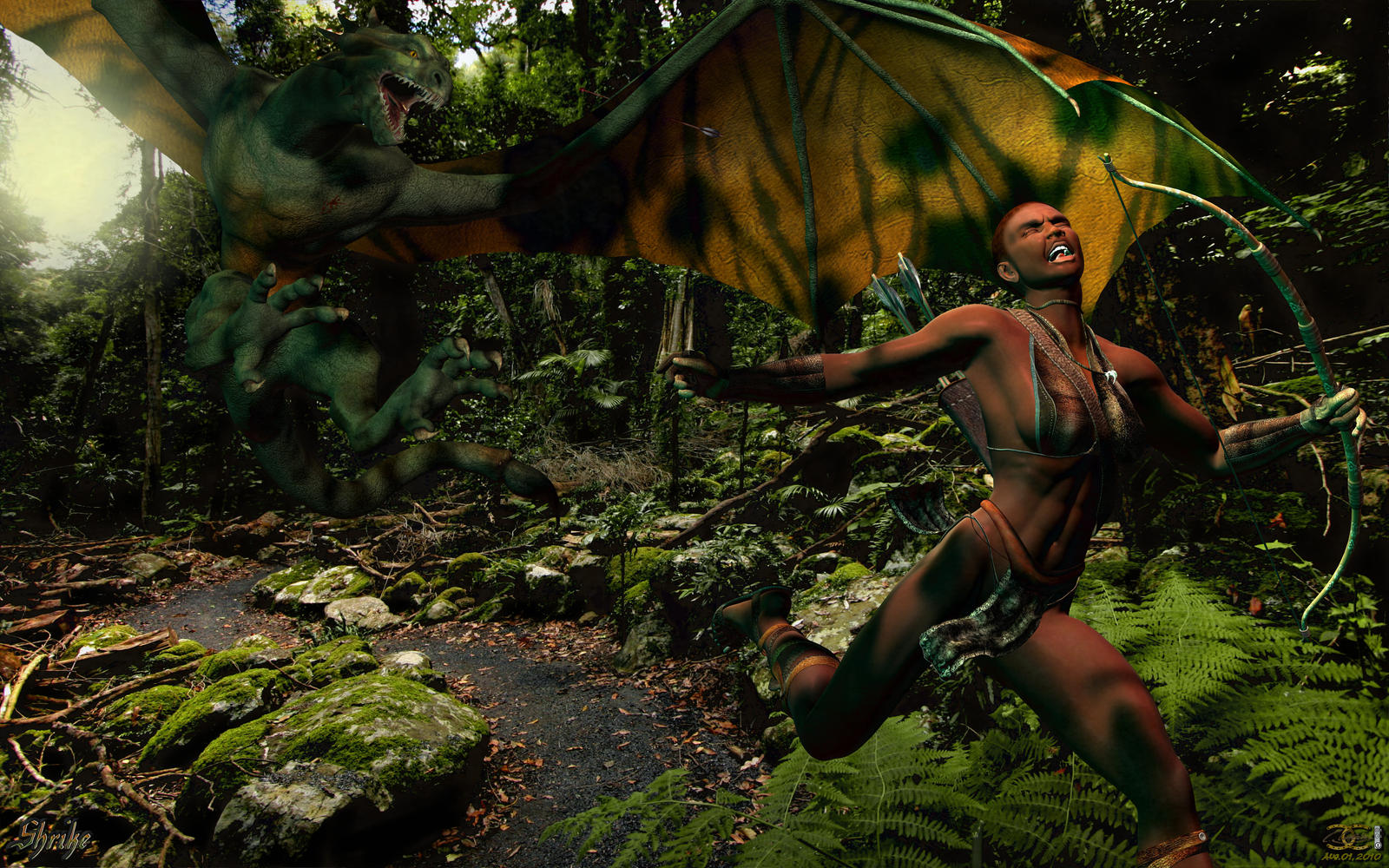 I love Shrike, my new Pet! Especially when it comes to a fight with a wanna-be-dragonslayer.
Normally Shrike is a good girl, she didn't eat too many people and feast on sheeps, horses, deer instead. Okay, here and there she devour some foolish human... but is this really a reason to hire a dragonslayer for killing her?
Our motivated, young heroine just discovered that Shrike is not the mediocre common wyvern. As an improved wyvern she have a stronger skin too, withstanding normal arrows very well.
Our heroine aimed on Shrikes heart and made a good shot, and for a normal wyvern this would maybe the end, but at Shrikes skin it leaves only some little wound.
A little bit surprised she realized, that her first hit had almost no effect and that Shrike had detected her and started a counter-attack...
A little bit more surprised our heroine fond out, that Shrike was far more faster and more agile than a common wyvern too and came damn fast down at her...
The ladies second arrow only hits Shrikes wing-membrane and made Shrike only more angry and interrupted on her hunt she decieded to feast on our young heroine now...
As Shrike started her attack out of the sun, panic take over and our heroine was turned in a fraction of a second into a little, crying girl and she tried to run away... a few seconds later our wanna-be-dragonslayer got a first class lesson of Shrikes long talons... and her bonecrushing teeth and powerful jaws...
Hmmm... after all Shrike was well fed up and the little wounds on Shrikes chest and the wing-membrane healed in a few days, no scars left, all is okay with my little lady again!
-------------------------------------------
The second official appearance of my improved Wyvern.
Inspired by:
You know the common works here on DA and in many Fantasy-Magazines: Sexy heroine vs. dreadful creature... And the heronie is always on the way to win (or had already won) the fight... Okay, to bring some change in this cliche i love to create works where things went terribly wrong for our sexy heroines

Planned as a fast job with only a backdrop and two characters, it cost me about 12-14 hours to complete it. Always jobs planned as "quick'n dirty" turning out as work-intense.
Here is some render showing the differnces of the standard "DAZ Wyvern 2" and Shrike:
Technical side:
Original background image
Rainforest Trail
by
frumbert/tim
.
Published at wikimedia-commons under the "Creative Commons Attribution 2.0" license.
Postwork as usual in PSP X.