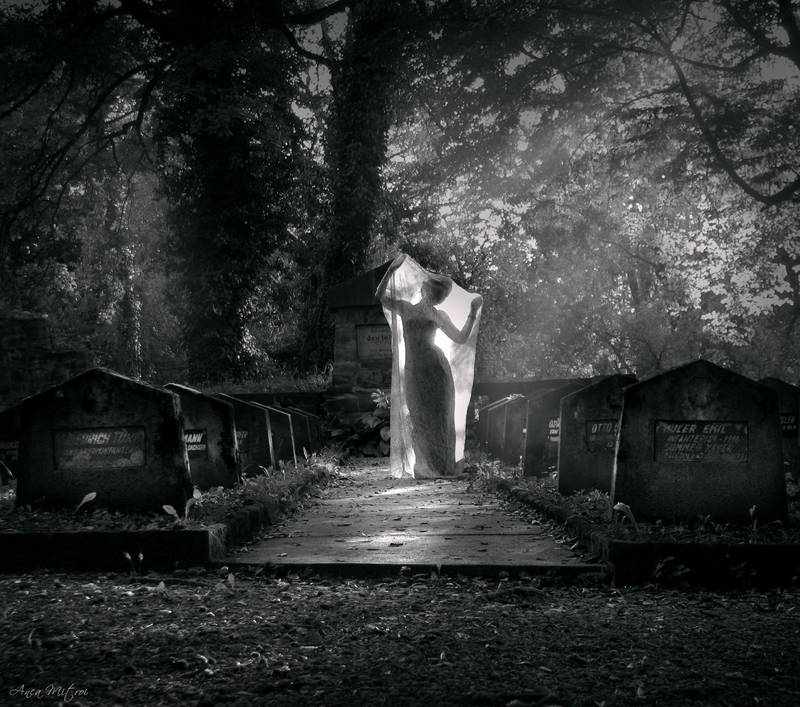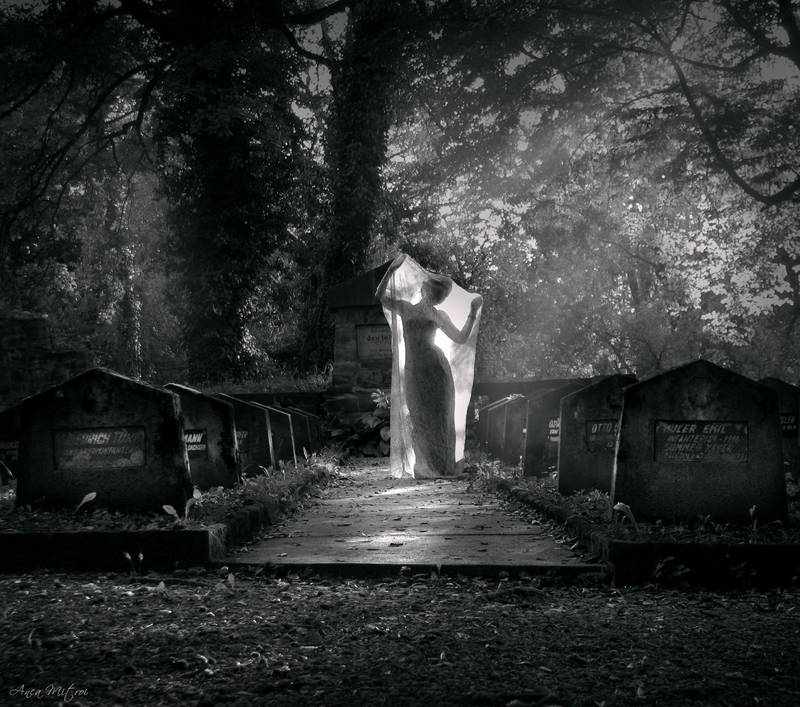 Watch
I can't seem to want to

this enough! Every time I look at this, I see something new, and I must say, this is a most excellent example of how to play with lights and shadows!
I want to start with what didn't draw my eye at first, simply because it is the surrounding details that makes this image so complete: The ivy climbing up the trees to the left, allows for a very surreal eerie atmosphere, one that headstones could not create alone.
The lighting from the sun (or moon) rays, that make their way from upper stage right, to the center, pulling the eyes to the main event of this scene - the light rays, working together with the ivy from stage left, create an almost yin/yang feeling to the overall aura of the area she is standing in.
The light play on the headstone edges, is really intriguing, I keep trying to figure out how the light from in front of the model, is so well reflected or deflected, onto these edges.
The light glow of her iridescent surrounding, is extremely well diffused by the material in which she is encased! The eeriness of that glow gives the impression of her as an entity, despite her feet being on the ground - a very ethereal vision!
The photographer has captured not only the emotion and aura of the location, but has captured my attention so completely, that I cannot bring it upon myself to close the tab - I've had this link open for hours, and I cannot help but wish to have been there for this shoot.
The Artist thought this was FAIR
10 out of 10 deviants thought this was fair.
I think overall this is very well done.

The black and white adds to the composition and creepy-nice atmosphere and the setting is very well chosen. The way the lighting comes from the back combined with the mist/fog surrounding the area as well as the light-shadow play with the surroundings gives this a brilliantly-intense atmosphere.

Covering the model in this transparent material, keeping her mostly in the shadows does give the impression of a supernatural apparition, especially considering the headstones nearby. This certainly is how one would expect to see a spirit/ghost if one were to imagine something like that.

As far as the pose is concerned it certainly does convey a feeling of a soul trying to free itself from the boundaries of its worldly ties, breaking free of the limitations of material existence. Combined with the overall setting this is a very powerful piece and I thoroughly enjoy the details within very much.
The Artist thought this was FAIR
8 out of 8 deviants thought this was fair.