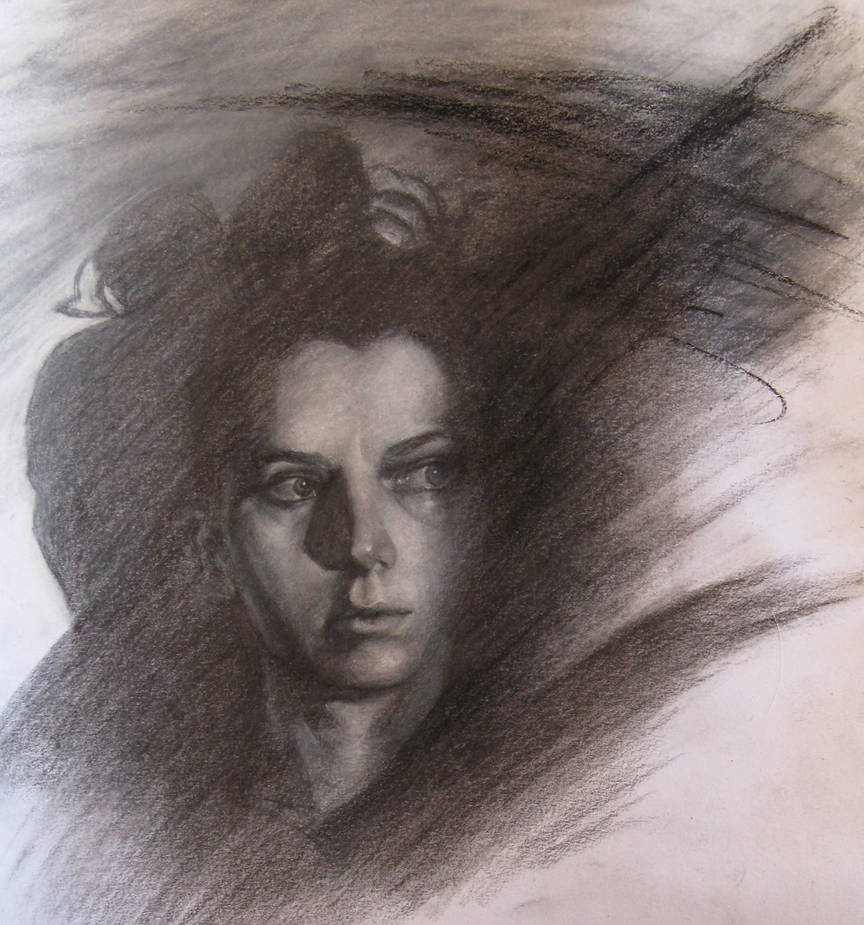 Watch
I've spent way too much time on this, simply because the structure that I laid at the beginning was wrong. Not too wrong but wrong enough to complicate the process. Even something trivial as the placement and angle of a nostril can throw the perspective off. The paper has been abused so much by my frustrations

And than I was like - yep done. I had fine lines of 4H pencil laid on top to give it nice texture, grabbed my fixative of poor people (hair-spray) and then...

it became darker and grainy and all the detail was gone.... F$ck it! I had to go back into it.
But I've finished it.

Now I want to burn it, but I wrote some important shit on that page too so...

Reply

Waw amazing shadow play! Love it
Reply

Reply


Anyway the result looks great and I think it was worth the effort! The expression on the look is great! Congratulations!
Reply

Frustrating but still light years ahead of the stuff that I do - may I ask what media you used with this? I'm assuming some sort of charcoal.
Reply

I started with pencils and it was my intention to keep it a pencil drawing, however, I messed it up. So I used white charcoal to blend it in and black charcoal to bring out the darks (basically I blocked it all in again esp. the face) and added finishing touches with pencils. Hope it helps. Don't be too hard on yourself, drawing is hard!
Reply

Thank you for taking the time to write this and thank you for the information. I suppose we all get frustrated at whatever level we are at. I really need to start using charcoal though as messy as it can be at times. And I suppose all we can do is just keep practicing!
Reply

No problem. That's right, some just don't talk about it. But I think we need to be honest about our struggles, because sometimes it's what drives us forward. Use it or not, let your art lead you but practice and keep growing. Hard work always pays off!
Reply

Fantastic light and shadow relationships, love it.
Reply

The composition is very original and intriguing

Reply