MY FACEBOOOK?
www.facebook.com/valeria.g.dep…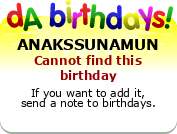 :thumb160356815:
:thumb165072238:

:thumb157361978:
:thumb161052484:
:thumb98794279::thumb160777210:
:thumb160582002:
:thumb160356815:

:thumb165715122:

:thumb151937486:




É impossível.
Pedir aos céus para apagarem as suas estrelas.
É impossível.
Pedir ao mar para não beijar o sol ao se pôr.
É impossível.
Pedir aos passarinhos para não nos alegrarem com suas cantigas.
É impossível.
Dizer à guitarra para não chorar a dor da alma.
É impossível.
Pedir às flores para não cobrirem os campos com os seus aromas.
É impossível.
Pedir à lua para não brilhar.
É impossível.
Conhecer-te, e não querer estar a teu lado.
É impossível.
Beijar-te, sem que pareça sempre um sonho.
É impossível.
Sentir o teu olhar no meu, sem te dar o meu coração.
É impossível...

(Impossivel by ~RubenDias)rubendias.deviantart.com/art/I…

--------------------------------------------------------
xxxxxxxxxxxxxxxxxxxxxxxxxxxxxxxxxxxxxxxx


Tagged by



The RULES are:
1. Post these rules.
2. Each tagged person must post 10 things about themselves on their journal.
3. At the end, you have to choose and tag 10 people and post their icons on the same journal.
4. Go to their pages and send a message saying you tagged them.
5. No tag-backs

1. I love to dance, sing and draw.
2. I really love everything about Metaphysics, Spirituality ...
3. I study languages since young. I learned Spanish and English by myself.
4. I do not eat meat, I could never enjoy it
5. I love mountains and waterfalls and also love to swim.
6. I was born in Brazil and I love my country
7. I love being nice to people!
8. My favorite type of music is Classical, but I really like rock and pop rock romantic too.
9. Series: 90210, Medium, Lie to me, Bones, Stargate, Falcon Beach ... lol
10. My favorite instrument is violin, but I also love piano and guitar (and I play)

Free Tag!!!



--------------------------------------------------------
xxxxxxxxxxxxxxxxxxxxxxxxxxxxxxxxxxxxxxxx


LOVE IS...

Love is a man
balanced over a fiery pit
precarious
dangerous
a single push and he is gone

Love is a scale
weighing a series of perceived abuses
meticulous
heartless
one tip and the balance is off

Love is a book
an endless story waiting to be read
engrossing
addicting
each word more beautiful than the next

Love is a song
an aria that surpasses any other
rhythmic
beautiful
each note is a kiss

Love is a lie
a silver-tongued dream
intoxicating
empty
dissolved in a moment of truth

Love is a fuse
waiting to be lit
volatile
imbalanced
waiting for an unlucky spark

I am Love
wishing it could last forever
dreaming
hoping
knowing that it cannot be

©2008-2009 ~Rizareth rizareth.deviantart.com/art/Lo…






*()**()
(=.)(.*)
( o)(o )
(,),)(,(,)
******







Outlaw by Design - Free PSP Tubes, Clip Art, Poser tubes (clipped to polyvore.com)