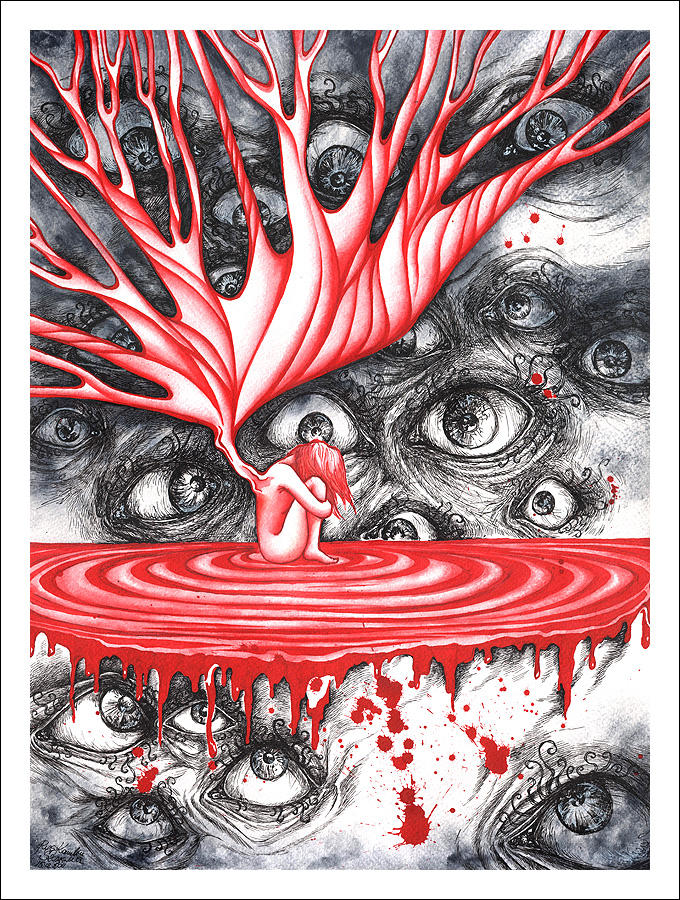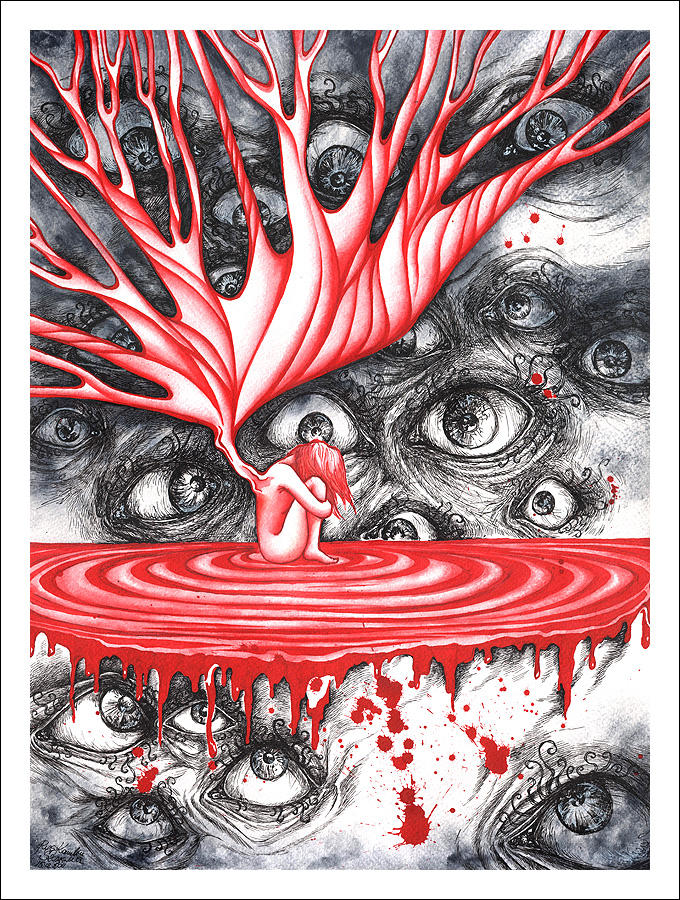 Watch
What I find the most disturbing is that the base sketch for this was actually made years and years ago.
I wanted to capture the sense of insecurity and paranoia.
The sense of constant fear driving you to the point of insanity.
Do you know that it's actually possible to break one person like that?
Let's just say you have to be there.
Putting it into 'drawings' category, cause 'mixed media' doesn't have 'Macabre & Horror'.
Don't think this should have the mature content warning up, really...
I may have actually found my true calling.

17. Blood

Work in progress:
[link]
[link]
[link]
[link]

My stupid cat has no respect:
[link]
size:
30x40 cm
medium:
Liquitex Inks (carbon black & naphthol crimson), W&N watercolours (payne's grey & cad. red deep), old sheet of fabriano paper.
stock:
Strangely, no stock was used. I didn't even consult my oracle, Google Images, lol.

I love it... speaks to my soul in an artsy way. So many feelings just from a painting... I needed this tonight - thank you.
Reply

Reply

Ohhhhhhh..... Yes. I LOVE this. SO TRUE!
Reply

Yes, well, painfully true. Thanks.
Apologies for the late reply, I have developed a habit of neglecting dA lately

Reply

the concept, the details is superb and i like the feeling behind it, very deep
Reply

Yeah, I thought this might catch your attention, it's quite close to what you do. Which is a compliment - for me of course.
Reply

this drawing is so strong...
Reply

Thank you. It's very hypnotising too. I can't force myself to take it down and hide together with the rest, it's been starring at me like that for days.
Reply

Fantastic. Great way of portraying a certain feeling/sensation while at the same time giving the spectators many different readings of your work. Love it~~
Reply

Sweet, i love this. The feeling this artwork gives is great

Reply