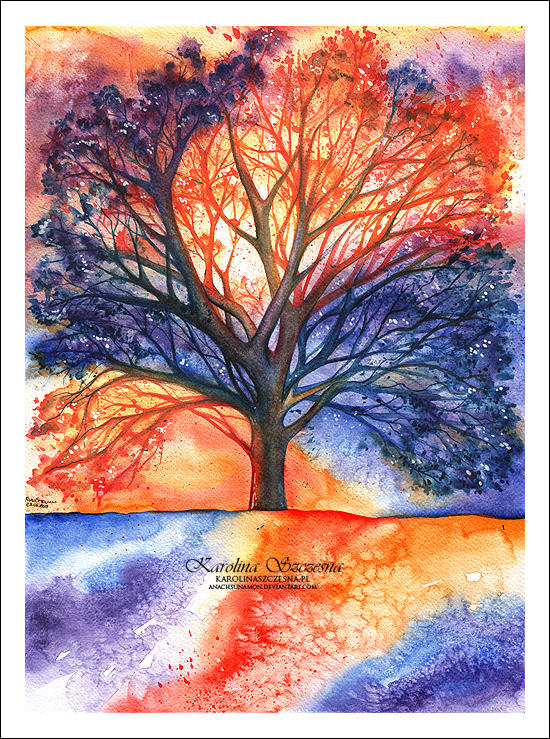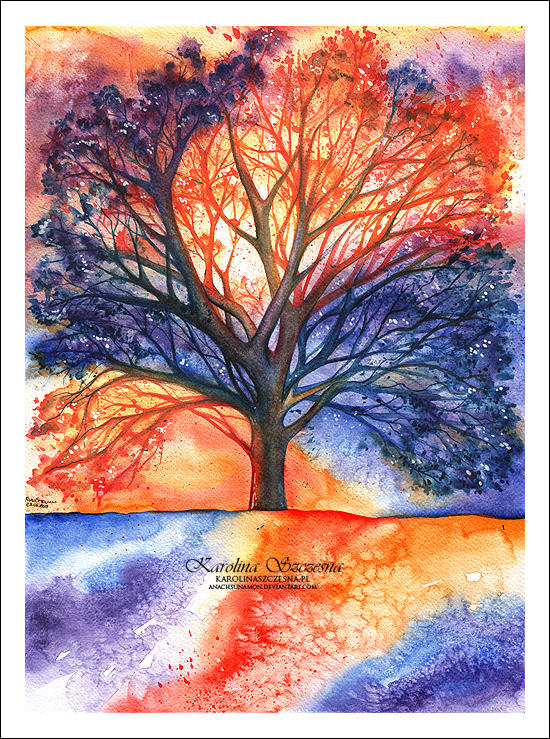 Watch
A picture made for my friend's charity event. Shall be donated to a local hospital.
The specs said 'something colourful and heartwarming'. Duh.

size: 34x46 cm
medium: W&N Cotman watercolours on Fabriano paper, salt.
ref: I used a random photo of a tree for the base sketch, nothing more.
edit: scanned in 4 pieces, put together in PS3. Colours boosted to match the original (my scanned doesn't see orange tones very well).

(Here's the promised comment!

)
To me, this is like the tree captured at a mix of times- from the red-gold of early evening, to the indigo of dusk and finally the star strewn nighttime. The tree itself is gorgeous and strong, about to cast the last of its leaves in preparation for winter...absolutely sublime colours here

Reply

Thank you so much, I like how you always analyze the images, finding things even the author is not fully aware of. The tree, the mix of times of day and night, summer and winter, makes me really proud. I sort of wish I hadn't given it away

Reply

(placeholder for proper comment which is forthcoming; I'm packing up and going home for the summer at the mo!!!)
Reply

Great choice of colors, they work very well together
Reply

Thank you! I thought the selection is a bit random, but seems to work for this image at least

Reply

You did it, very colorful and heartwarming. Quite stunning.
Reply

Beautiful painting! Looks wonderful...

Reply

beauty of color
excellent tree
Reply