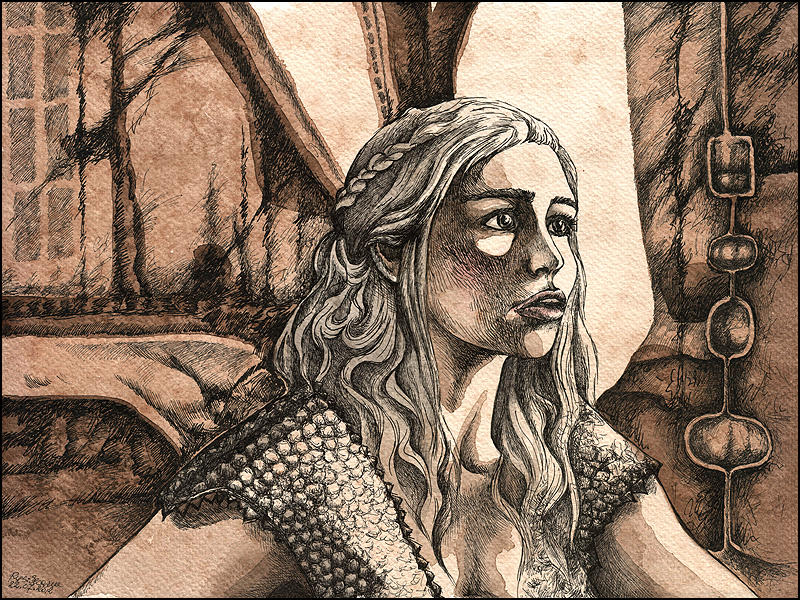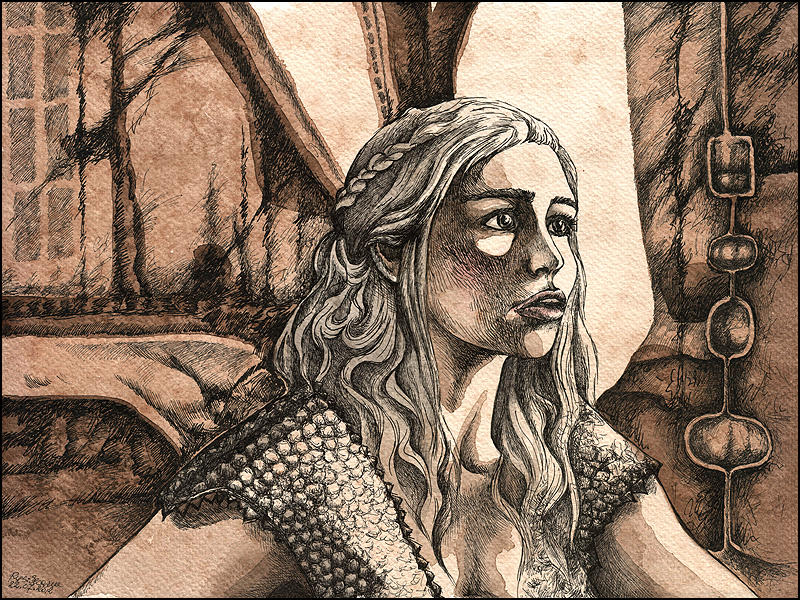 Watch
Ahh, Danenerys Targaryen

I could let Emilia Clarke sign my b00bs with a permanent marker, and the tatoo over it.
For some reason I forgot to submit this one.
Guess I'm not that dedicated to dA anymore.
Might have something to do with one of my works rejected from a club for not being done in watercolours. Seriously, WTF. That's ALL I ever use. Almost. Things like that make me loose faith in mankind. DeviantART is just not the same *facepalm*

Work in progress:
[link]
[link]
size:
24x32 cm
medium:
Watercolours and salt on tea-stained fabriano paper, Liquitex ink, a fistfull of different nibs.
stock:
This was made from a screencap.

Jedna z najlepszych Danek, jakie widziałam na dA!

Co to za miejsce w tle? Nie poznaję lokacji.
BTW, świetne ubranie. Daenerys ubiła jednego ze swoich smoków na tę kamizelkę?

Reply

love your version of khaleesi beautifully done!
Reply

Światłocień genialnie oddany kreskowaniem

dawno mnie tu nie było...właściwie to dawno na dA mnie nie było, musze ponadrabiać

a btw nowy sezon już 31 marca




A jeśli chodzi o deva to zgadzam się, po przerwie widze różne zmiany powprowadzane, wcale nie na lepsze, a szkoda..
Reply

Mnie najbardziej zszokowała zmiana przy submicie. Chyba dawno nic nie wrzucałam.
Jak Ci się widzi nowy sezon? Dobrze, że mam za sobą książki, bo coś tu się nazmieniało. Jojen Reed

świetnie dobrany aktor.
Reply

Miałam to samo uczucie, że dawno nie wrzucałam prac bo musiałam się chwile rozeznać co i jak...niepotrzebne to "ulepszanie".

A nowy sezon powoli się rozkręca, ciekawi mnie bardzo. Niestety nie czytałam, więc co do zmian to nie mogę się wypowiedzieć. Choć mam wrażenie, że jak na razie, bardziej stonowane akcje, więcej podchodów niż interwencji bohaterów w różne sprawy. Reed - popieram, jak go zobaczyłam to od razu w myślach miałam przejażdżkę po filmach, w których grał - takie moje cuś, pamięć do twarzy :]
Reply

Love the detail. Gorgeous expression and wonderful technique. Absolutely stunning
Reply

Thank you for your comment, I'm glad you liked the work. And sorry for replying 6 months later, I tend to do that recently

Reply

Cool work!! I'm eager to see it finished.

Reply

It is finished, lol

Reply

Beautiful Dany

Reply

great rendition of her

Reply