I apologize for the long wait setting Anachrons back up with a fresher and more organized group.
Please be aware that we now have a new world for our players/role-players to explore.
After the mafias united and took over the government, a crack formed across the globe in the sky where Genesis patched it up with his portal that is turned into a locked gateway. He passed through it to discover Chron Island is trapped inside a dimensional universe;space. There are other planets, moons, stars and sun. The strangest of them all was another globe similiar to Chron Island.
Willow O' Wisp, a cold country of ice and snow, had fallen in the same fate from the government playing with forbidden science.
Genesis arrived in the new world to create a portal that is linked to Chron Island, knowing that his job is to try find other worlds trapped in other realms to put them together like a puzzel. It appears that some parts of planet Earth got taken to other dimensions.
New Map: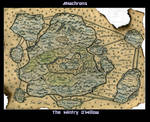 People of Wintry O' Wisp:
The people who inhabited the land is known to be tough, determined and can resist the cold. Above all else, they have no idea what had become of Chron Island when the barrier was put up. After the chaos and panic of their world splitting, altering and becoming trapped inside a pocket in a dimensional world had caused the civilization to panic. The beginning of cannibalism happened when the villages in remote areas had isolated them from other communities due to a terrible blizzard for three years. When the storm cleared, the people, floras and faunas became more stronger and resistant to the cold. Five laboratories were destroyed from the great change and let one third of the experiments free from their containment. The people don't know how they became to be, but believed they arrived when their world fell under the great change. The experiments were thought to be creatures from mythology.
To know more about the war in Chron Island, please click the link below.
Link:
scythevale.deviantart.com/art/…
More Information about Anachrons
Link:
scythevale.deviantart.com/art/…

FAQ has been updated

Fifteen years passed in Chron Island. 2150
Five Years only passed in Willow O'Wisp. 2145
Both worlds have different years.
The people in Willow O'Wisp recently discovered that the people from Chron has these beings called Anachrons, not all of them know what they are. Between the two nations in their own globes have their own opinions about their neighboring world.
I am still updating the library for only the members to have excess to it, but if there are people who are interested in joining the group please comment below.