Hello, everyone, it's been... a while. It's been roughly two years since my last update of any kind here on DA. A lot has happened in last couple of years. And there was no time for painting, and frankly - no inspiration.
Until the day before yesterday. I decided to "touch up" my old paintings that i didn't like so much.
(Be honest, how much of your art you *actually* like?)
By doing so, I feel not as if I'm just repainting old stuff, I feel as if I'm documenting my transformation from a person I was before - to a person I am today. (Come to think of it, I should probably change my ID photo, as well.)
My 1st old-new painting is here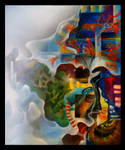 .
I actually really like it. In real-life, that is. Here on screen it just looks awful, but I guess I'll replace it with a better photo soon. For now, I'll submit it just to keep the energy flowing.


Hope to see you and your art soon (and not every two years)