Hello! My name is AmyCakes05
But you can call me Amy to make everything easier.



So , I've been here around 3 years so far. I don't post as often as I really want to. Work's always up my ass so I'm pretty busy a lot.
Every chance I get, I try to either add to my favorites or put an effort an submit something new.
I'm a pretty laid back person, love a good meme as well.
I also have a lot of ocd which is partly the reason I'm never here because I'm trying to clean the house or clean the SHIT out of the dining room at work.
Also I keep fucking changing the way my art looks because I get so stubborn about it's appearance.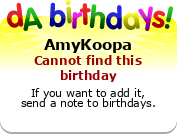 :

Anyways, thanks for checking my page out!
Watch if you'd like!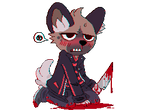 ~Go watch Cutgut~


<- By LittleParade