Journal Entry:
Thu Jun 11, 2015, 5:25 PM

Donate

Oc's

RGIM

Comissions/Art Trades

Youtube SpeedPaints List

This guide is now
on Tumblr
This is a bug in many newer tablets from wacom.
It only seems to affect sai.
No matter what you do from installing old drivers to messing with things in the control panel, closing excess programs for memory or reinstalling SAI your pen pressure just doesn't want to work. If this is the issue you are having, I've found the solution that works.
Step 1:
Go to the folder that holds sai.exe
Step 2:
Look for [misc.ini] open it in word pad (not notepad)(Rightclick + open as administrator)
Step 3:
Scroll down until you find
"Avoidance for bugs of Wacom tablet driver Ver6.0x later.
"
Step 4:
Change the value I highlighted from "0" to "1" save and close.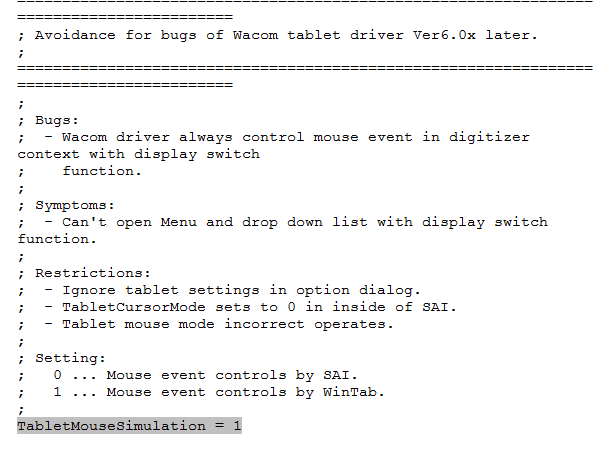 Open sai again and the problem should be solved.
tags for google:
Cintiq wacom intuos bamboo qhd 24 13 22 27 4 5 pressure sensitivity not tapering lack of on off new tablet not working functioning on driver fix solution tablet paint tool sai photoshop 6.3.11-4 windows 8 8.1 touch windows pen & touch control panel
Playing: Cintiq wacom intuos bamboo qhd 24 13 22 27 4 5 pre
Eating: Cintiq wacom intuos bamboo qhd 24 13 22 27 4 5 pre
Drinking: Cintiq wacom intuos bamboo qhd 24 13 22 27 4 5 pre