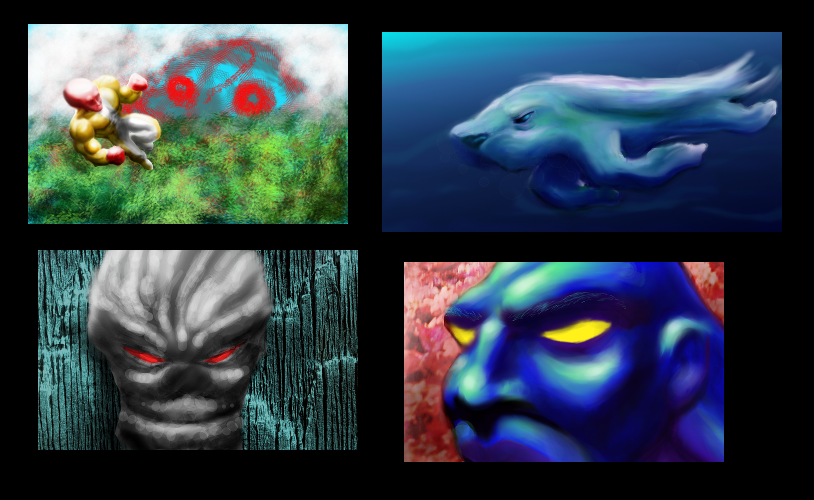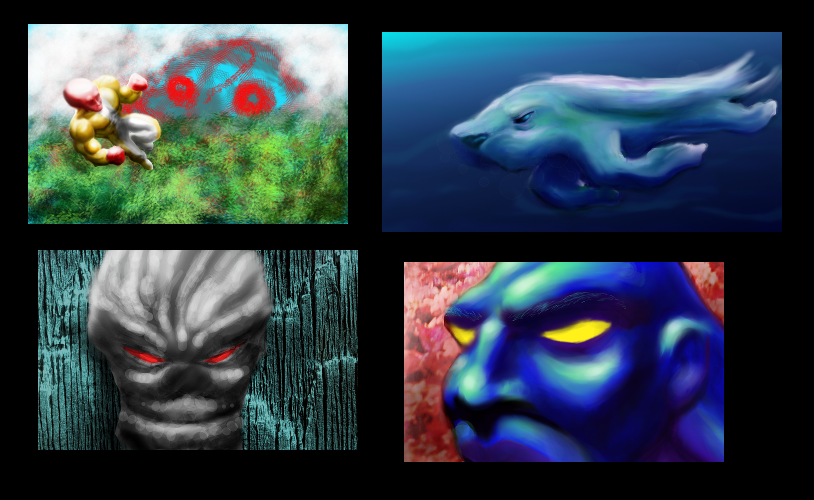 Watch
titles:
a.
b. Venomous Squaliform
c. bedpost
d.
titles by:


If anyone has any creative suggestions for titles or captions for any of these I will add ones I like as the titles and credit and link you here in the description.
---
I typically work on images with 2000 or more pixels in width and then shrink them down. As I was writing a recent GIMP tutorial
[link]
encouraging others to do the same I had the sudden curiosity about what my results would be if I didn't. So I gave myself a 600 pixel wide canvas just to see what would happen.
I feel like I need a lot of regular practice to improve my painting skills but I don't feel I have a ton of time or attention to dedicate to it. So even though I have been getting unsatisfying results I have decided to keep going and I have made a regular practice of doing these micro paintings which are about 320 to 350 pixels in width when completed. Here are my first four. Hopefully I will begin to improve eventually.
created with GIMP
any photomixing has been done using my own photographs

My favorite is the dude in the upper right; it's imaginative and the lines are a little sharper than in the other pics. I also like the blue-greenness and the lighting...he really looks like he's underwater. Ol' Bedpost over there...he's just a little too blurry...I keep squinting at him. Anyway, and the word that comes to mind when I see upper-right is "dogfish". But that's too obvious. So dogfish are a thing; they're a type of shark (and a really good beer). What do we know about this shark? It's in the order Squaliform, which is a cool word. But wait, there's more: they're venomous! A venomous shark? Yes! Their dorsal fin is coated with venom. So I propose the name Venomous Squaliform.
Reply

I totally love the blue guy in the bottom right. The colours are awesome!
...I wish I were better at giving feedback, because I always appreciate yours.
Reply

You could always suggest a title for one of the paintings. I would appreciate that.

But it does already help just to know what you like and which one people prefer.
Reply

I am not sure if asking a person who uses the number of the chapter she used as reference for all of her own titles for help with yours is a great idea. I am really not that creative.
...I had a friend who had a carving of a creepy face that looked eerily like the grey bottom left guy mounted on their bedpost, so I would call it 'Bedpost'...lol
If I come up with anything not stupid that you can take seriously I will let you know

Reply

Firstly I need to get something off my chest, that little grey dude with the red eyes is watching me kinda funny! Ok, I can continue now

This is such a good idea, it's probably something we all should be doing, I, like you never seem to have the time. You know I already dig your awesomeness when it comes to all your arty stuff, I think it's fantastic how you always work so hard to improve yourself and how you try to do the same to others. Well done

Reply