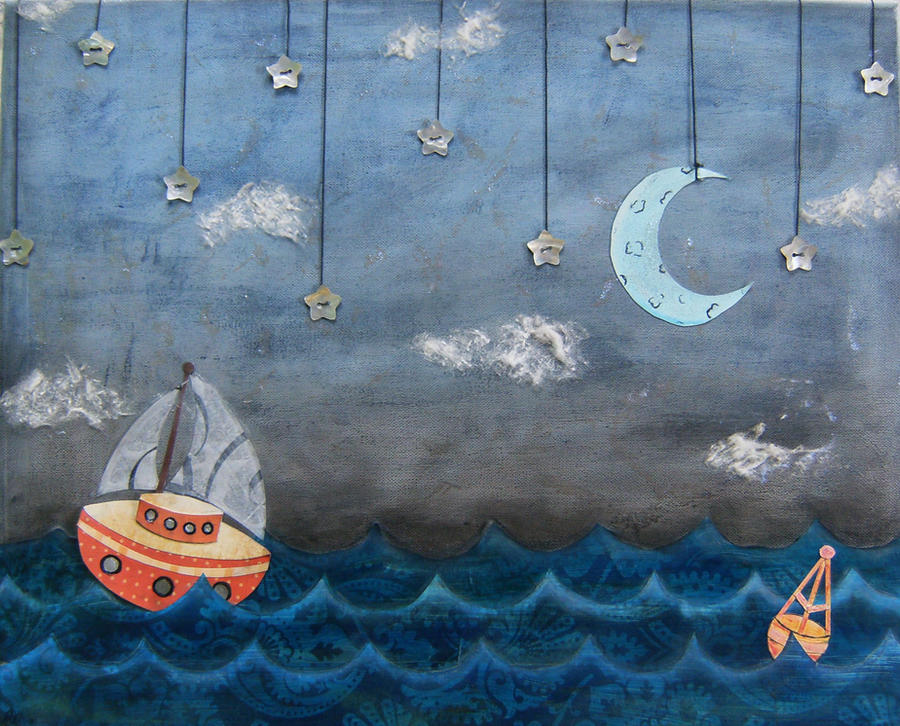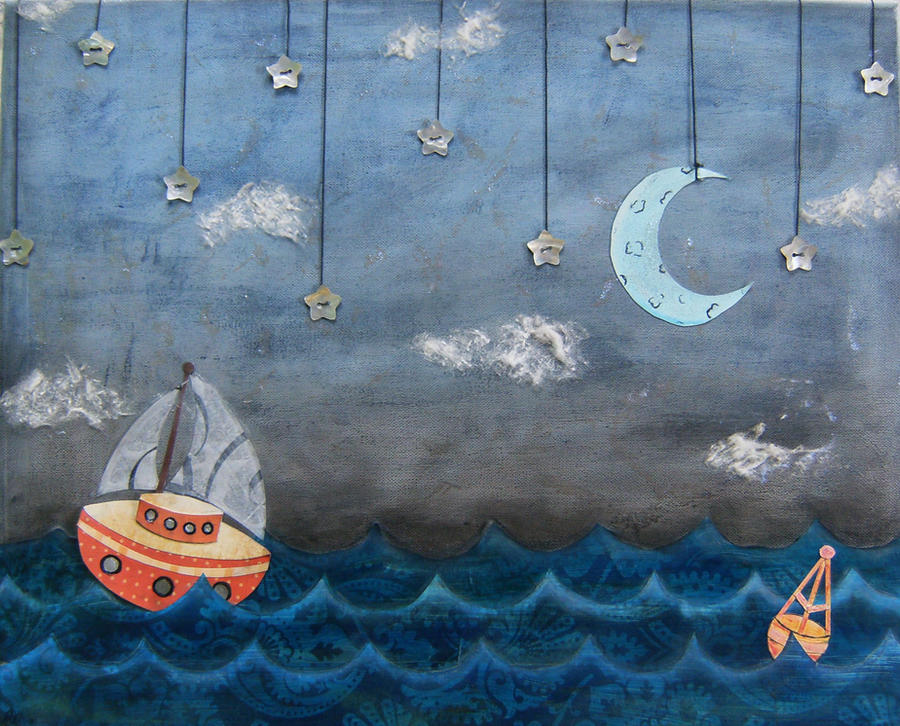 Kind of based off the song Boats & Birds by Gregory and The Hawk. If ya havent heard go. go now..(lyrics are below) its really good. Sorry about the photo quality its a 16"x20" canvas so i couldnt scan it and everytime i took a photo of it there will be one big bright spot so i had to take it with out the flash. FULL VIEW PLEASE.

FOR SALE: I'm selling the original so let me know if your interested. $100.
Materials: Pastel Chalk, Arcylic Paint, Paper, Cotton Balls, String, Tinfoil, Sharpie, Glitter, Shiny Damask Wrapping paper(you can see in photo but the water has a damask design) and Pearl Star Shaped Buttons.. i think i mentioned all that i used.
------------------------
Boats & Birds - Gregory & The Hawk
If you be my star
I'll be your sky
you can hide underneath me and come out at night
when I turn jet black and you show off your light
I live to let you shine
I live to let you shine
but you can skyrocket away from me
and never come back if you find another galaxy
far from here with more room to fly
just leave me your stardust to remember you by
if you be my boat
I'll be your sea
a depth of pure blue just to probe curiosity
ebbing and flowing and pushed by a breeze
I live to make you free
I live to make you free
but you can set sail to the west if you want to
and past the horizon till I can't even see you
far from here where the beaches are wide
just leave me your wake to remember you by
if you be my star
I'll be your sky
you can hide underneath me and come out at night
when I turn jet black and you show off your light
I live to let you shine
I live to let you shine
but you can skyrocket away from me
and never come back if you find another galaxy
far from here with more room to fly
just leave me your stardust to remember you by
stardust to remember you by