Stolen from @/StitchBlanket

1. What is your fursona's name?

Ami


2. How old is your fursona?

She is 15 years old, but I created her on August 24 2018
3. What is your fursona?
A Patagonian Mara
4. How much time have you had your fursona?
For a few months and I don't intend on getting rid of her anytime soon


5. Was your fursona inspired in something?
She was mostly made because I love Patagonian Maras and from another character I had that was a filler sona until I could make something I liked
6. How much art do you have of your fursona?
I don't really know since I sketch her a LOT in my free time


7. You made your fursona or you buy it?
I made the bable
8. Did someone ask if your fursona for sale? (if yes what did you say)
No one asked me, but if someone did I would decline because I love her too much
9. Why you consider your fursona special?
Because she is a reflection of me kind of and I haven't seen that many people with Mara characters let alone have one as their sona


10. Does your fursona act too much as you or are they different from you?
She acts mostly like me, but she is a Mara
11. What kind of hair your fursona have?
A floof


12. Put here 5-10 drawings of your fursona you like the most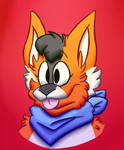 these made by ESKETlT, ghylo, Katja-80, LordRabbid, Mothpebbles, umarie, WIKIWACA, and me. Please watch 4/5 of the peeps they are friendos of mine and they make great stuff so please check them out (the other 1/5 is a poopy butt)
13. What music represents your fursona?
This is hard to say, but this sort of represents her kind of (not really she just likes them a lot)


14. If your fursona was insane what music would represent them?
I wouldn't imagine her having an insane side at all and so I can't really think of some ideas


15. Do you wish your fursona was real?
Yes because she would be tiny, huggable, fluffy, and cute
16. Do you have any games of your sona?
No
17. What would you do if you meet your fursona in real life?
Hug her