San Juan Puerto Rico!!! My second home, where I was born. Can't wait to go home again. I miss the friendly people and the wonderful beauty that is PR. And my favorite sound in the whole world, the song at night, walking around San Juan and hearing the Coqui Frog sing! Such a beautiful noise the little guys make!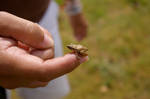 My home, my Puerto Rico....



Current Residence: South Dakota US
Favourite genre of music: Country, and ANYTHING from rap to clasical, depends on my mood
Favourite photographer: Ansel Adams
MP3 player of choice: iPod
Favourite cartoon character: Daphne From Scooby Doo
Personal Quote: The best thing in life is to love, and be loved in return!