1. You must post the rules
2. Each person must post 5 things about themselves in their journal.
3. Answer the questions the tagger set for you in their post, and create eleven new questions for the people you tag to answer.
4. You have to choose 10 people to tag and post their icons on your journal.
5. Go to their page and tell them you have tagged them.
I was double tagged, so I'll double everything.
Things about me:
Well... Recently, my family, or mostly my mom and brother have caught a farting disease.
I sleep with my best friend. (a stuffed owl) (MWEHEHEHE I KNOW ALL YOU PERVIES OUT THERE)
I wear a headband everyday to school.
I know yo mama.
I've seen yo mama.
I've poked yo mama.
I like cute Japanese songs.
I believe I have a twin who is shorter than me.
If you have the right music, I will randomly start dancing.
I HAS RELEASED A VOCA-SELF COVER.
My questions:
1. Current obsession?
This song.
www.youtube.com/watch?v=TawoZ3…
2. I'm gonna call you a bad word. Let's see if you can find it.
Hey look! An abandoned female dog is on my lawn!
3. Barf Glitter or Sprinkle Farts?
Sprinkle Farts

4. Is your face...facey? :I
Very.
5. There's a red path full of gold. Do you like gold?
Not if it's covered with blood.
6. Can you do a flip?
On the trampoline.
7. How do you like your art?
I think I'm the best..... worst artist. Lol, JK, I think it's cool.
8. HAHAHAHAHAAAA~ Did you find the word I called you?
It's. On. My. Lawn.
9. I thought it was pretty funny to call you a name.
I know, right.
10. I'm sorry, I didnt mean to hurt your feelings . NOW GO TAG SOME LAZY PEOPLE NAOW.
But I have no friends! LOL
11. POST A PIC OF YOUR PET NAOW. (if you already have, post another one)
My cat ran away, so he looks something like this.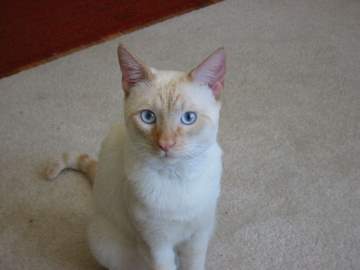 12. Hetalia?
Yah, I guess.
13. What's the nearest neon green thing to you?
Mah booger?
14. Pewdiepie or Tobuscus?
Purdypie.
15. Are you jealous of anyone here on dA?
A lot of digital artists make me angry. =___= Them skills....
16. Have you ever had meatloaf
-
@?
I dunno, I somewhat like the taste of it.
17. Who's the last vegetarian you spoke to(online or in-person)
A classmate named Shruthi.
18. How do you feel about Screamo/Death Metal music?
WHAT THE F*CK AM I LISTENING TO --
19. I'm under your bed. If you check, I'll jump out and eat your eyes. Don't turn around. I'll kill you.
-
@
I know the answer! It's Slenderman!
20. What color is your hair?
Brown!
My questions for you:
I'LL TAG PEOPLE LATER ERMAHGOD.