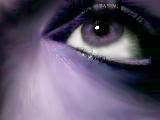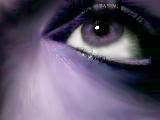 Watch
tickle me pink
with shades of violet

What an awesome photomanipulation! The variations of colors give it a nice effect, great work!

Reply

This is gorgeous! [as is your avatar

] The purple is so approriate, and well blended

Reply

WOOOW.............. this is AMAZING............
i

the detail on the iris and all......
very good

Reply

this has a very surreal quality... like the eye is just floating around somewhere... not on a face... that sounds weird and I'm sure you weren't intending it but... I dig it.
Reply

Oh cool

i LOVE the purple shades.. the picture is good quality aswell, so it all works nicely together XO and WHY hasn't anyone commented???

this pic is so rad, keep it up !
Reply


thank you, love. it's people like you that keep me going when i'm down on myself.

more manips to come.. i promise thee.
Reply