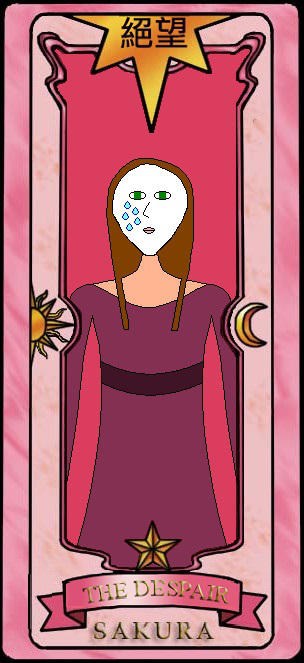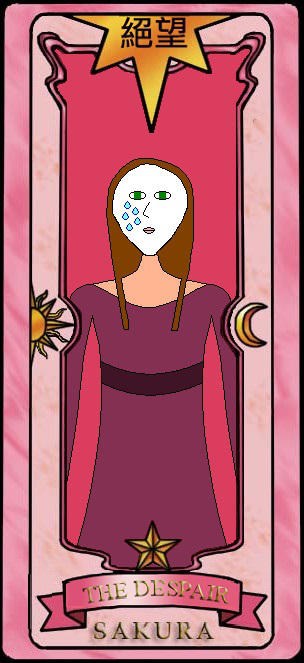 Watch
The Despair is a Sakura Card found in The New Trials of Cardcaptor Sakura, Syaoran, and Friends by

www.wishluv.revolutionhosting.…
I don't usually draw people, but I gave this a shot anyway. I'm pleased with the way that it came out even though I do know that women do have curves. The description is, "On the face was a woman with a sorrowful white mask with tears falling from its eyes."
This Dark Force was captured in Chapter 61: Fantasia in Memoriam.
I am drawing all of these cards for three projects: The NT Picture Book
newtrials.deviantart.com/favou…
, The NT Fan Projects site
newtrialsfanprojects.weebly.co…
and the NT Wiki
newtrials.wikia.com/wiki/New_T…
Sakura Card Frame by

:
fav.me/d4x7d9y
Microsoft Paint was used for the art. Asumei designed the label and the symbol. Chinese characters are courtesy of Sa Halliwell.

aww... it looks like Sakura with long hair with a mask on... >.<
Reply

Wow, I didn't even notice until now! I figured that the green eyes will look pretty.
It happened once where I interpreted a non S&S picture as a scene from New Trials:
[link]
The girl had long hair and the boy looked like Syaoran. The artist was kind enough to let me use it for the NT Picture Book Project to represent Star Crossed.

Reply

You make strange cards but its nice
Reply
Good job. But I have the strange feeling that arms are too long

Reply

You're right. I don't know how to get around it, and at this point it's fine with me.

Reply
But maybe its just my imaginatiom

Reply