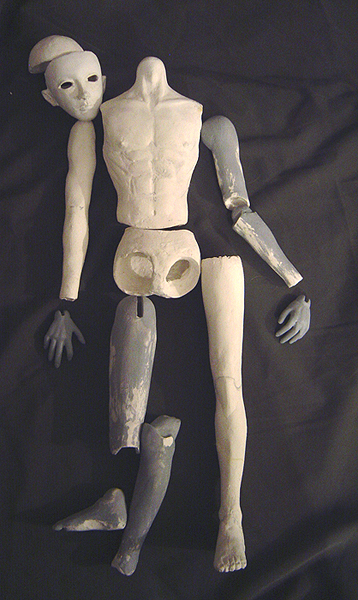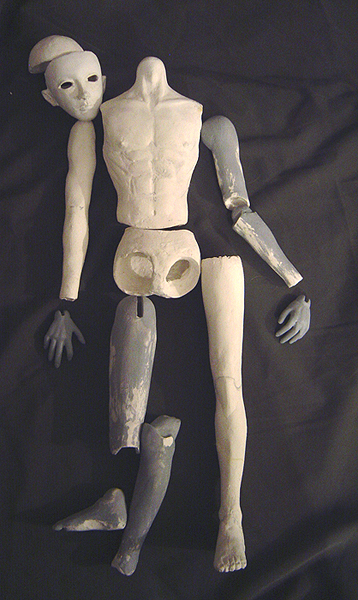 Came upon this old project of mine in a box the other day while cleaning. It breaks my heart really. Years ago, I picked up the Yoshida "How to make an art doll using paperclay" book and tried to make my own ball joint doll. I got fairly far along in the process, sculpting a female doll out of paperclay and then coating it with primer and sanding it to a smooth finish. I even got a working prototype that stood up and everything. Then I bought molding and casting materials (an exhorbitant cost considering my low income) and tried making a resin copy of the head. I realized then that my technical expertise in casting (and my lack of the proper equipment to remove air bubbles in the resin) meant that I would probably never be able to cast the doll on my own. (And I sure as hell would never be able to afford to commission an individual or a company to cast the doll for me either.)

I abandoned the project, came back to it a few months later and tried to revise the doll but I didn't get very far in my revisions. (I tried to make a male doll as well at some point , but I didn't get very far with that project either.~ see picture above)

Given my current life state and my lack of free time, I doubt I will ever have the time to return to these projects. Which is a shame since I probably spent at least 1000 hours total on the both of them. (I kind of wish I could send them to someone else to finish, but I don't know if anyone would be interested.) Sigh.