Socrates on love-charms and magic spells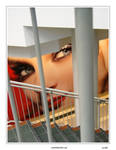 Xenophon reports many intriguing conversations Socrates had with fellow Athenians and foreigners. One of these was held with an extremely beautiful young woman called Theodote who, given her beauty, frequently posed for painters and artists. The very end of their conversation reads like this:
"'Very well,' said Theodote. 'how am I to arouse hunger for what I have to give?'

'Why surely, said Socrates, 'if , when your admirers are satiated, you neither offer nor hint at your favours, until the satisfaction has passed and they feel the want again; and next, when they most feel the want, if you drop hints by a combination of the most modest behavior and obviously wanting to gratify them, and by obviously holding back until their need is as great as possible –for the same favours are much better then, than before the desire for them is aroused.'

Theodote said,' 'Why don't you help me in my hunt for friends, Socrates?'

'I will , believe me,' said Socrates, 'if you persuade me.'

'How can I persuade you?'

'You'll look to that yourself,' he said, 'and you will find a way, if you need any help from me.'

'Then come and see me often,' she said.

'Well, Theodote,' replied Socrates, poking fun at his own avoidance of public life, 'it's not very easy for me to find the time for it. I have a great deal of private and public business that keeps me occupied; and I have some girlfriends too (note: ironic) , who will never let me leave them by day or night, because they are learning from me about love-charms and spells.'

'Do you really know about them too, Socrates?, she asked.

'Why do you suppose that Apollodorus here and Antisthenes never leave me? And that Cebes and Simias come to visit me from Thebes? You may be sure that these things don't happen without a lot of love-charms and spells and magic wheels.'

'Lend me the magic wheel, then, so that I can spin it first for you.'

'Certainly not,' he said, I don't want to be drawn to you; I want you to come to me.'

'Very well, I will,' she declared. 'Only mind you let me in.'

'Yes, I'll let you in,' said Socrates, 'unless I have someone with me that I like better.'"
Xenophon Memoirs of Socrates III, 11
No wonder ugly Socrates ------who knew he knew nothing----- also knew he only knew much about only ONE specific topic. That topic was eros. In this respect he is not far from artists, who also claim to know much about our erotic life.