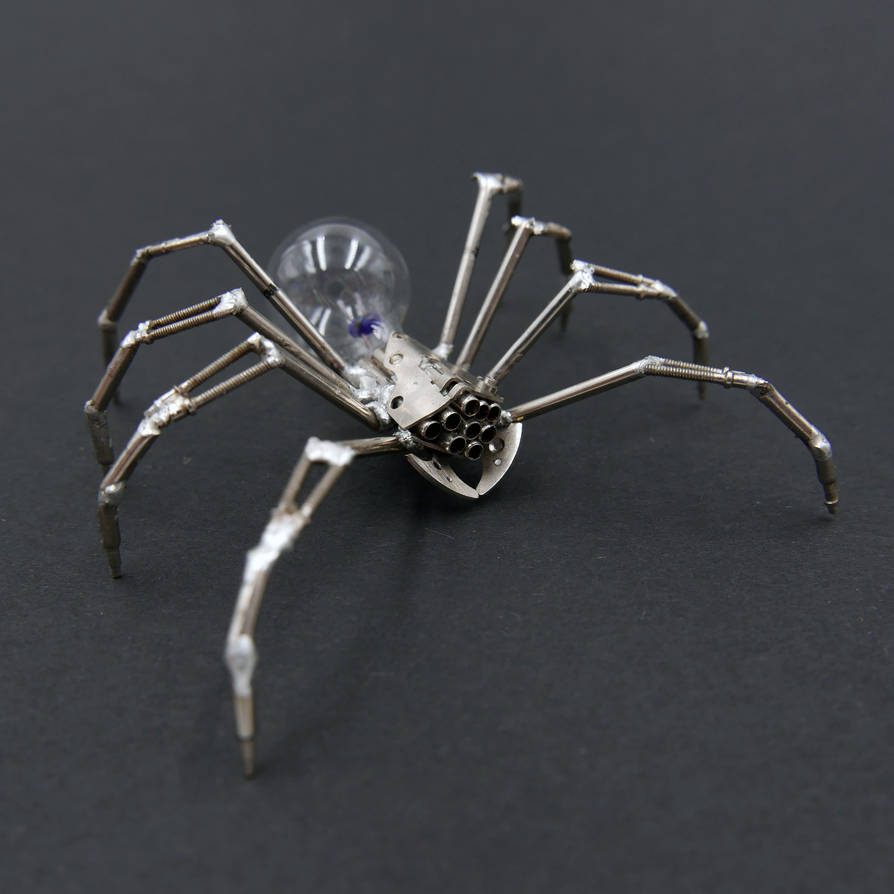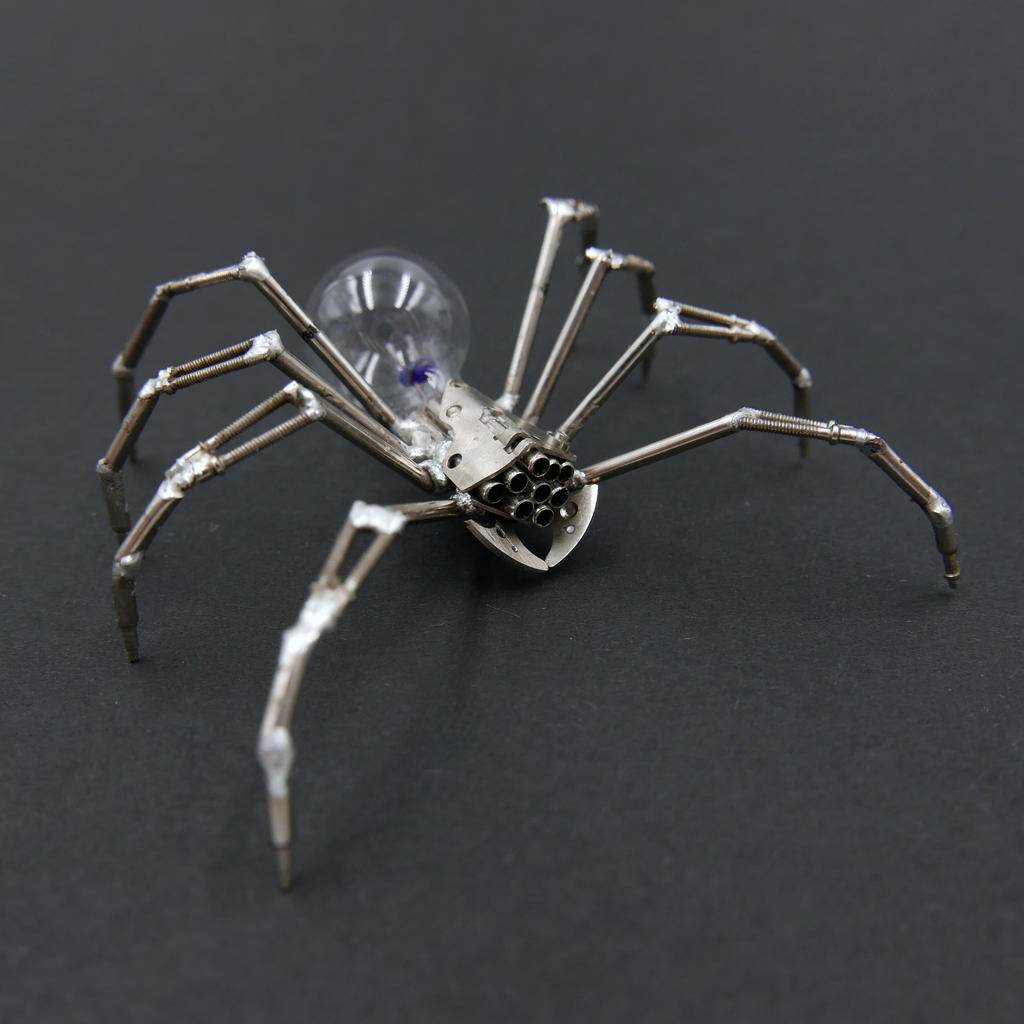 Buy: www.amechanicalmind.com

Watch Parts Spider No 98
created January 14, 2019
Spider No 98 was made with recycled watch parts and a clear automotive bulb.
In order to create the legs, twenty-four watch spring bars and sixteen watch winding stems are cut in different sizes to simulate the organic appearance of real spiders' legs, which vary in size and shape between species. Each of these segments is carefully arranged into a leg and soldered at the joints with lead free, silver bearing solder.
To make the body of the spider, nine spring bars have been cut and soldered together. To this assembly are added a few different watch plates for structure and to give the look of pincers. An automotive bulb is very carefully removed from its metal base and soldered to the body chassis by its lead wires.
After the body is made, the leg assemblies are carefully arranged and attached by soldering. The legs and body are then manipulated in order to make the spider stand properly. All joints are then resoldered for added stiffness.
Spider No 98 measures 60mm wide by 53mm front to back by 21mm tall.
All creations made by A Mechanical Mind are one of a kind, never to be reproduced exactly. All parts are soldered, never glued. Each sculpture comes with a 3" wide by 4" tall glass display dome with wooden base. Sculptures are not toys and should be handled sparingly, as their parts are tiny and delicate.

Cool one

Reply
It looks like the robot from the movie Valerian and the city of a thousand worlds where it has a small to cut through things
Reply

One person's junk is another person's art -- congrats on reusing those old watch parts! That's an impressive looking spider! It reminds me of the mechanical spiders from the film "Runaway" with Tom Selleck and Gene Simmons. Of course, if I remember correctly, they squirted acid and injected venom. Nasty little beasts, those were...

This one, not so much.
Reply

An amazing work

I like
the level of detail,
an exceptional job
Reply

S­t­a­r­t w­o­r­k­i­n­g ­a­t h­o­m­e w­i­t­h G­o­o­g­l­e! I­t's b­y-f­a­r t­h­e b­e­s­t j­o­b I'v­e h­a­d. L­a­s­t W­e­d­n­e­s­d­a­y I g­o­t a b­r­a­n­d n­e­w B­M­W ­s­i­n­c­e ­g­e­t­t­i­n­g a c­he­c­k f­o­r ­$­6­4­7­4 t­h­i­s - 4 w­e­e­k­s p­a­s­t. I b­e­g­a­n t­h­i­s 8-m­o­n­t­h­s a­g­o a­n­d i­m­m­e­d­i­a­t­e­l­y w­a­s b­r­i­n­g­i­n­g h­o­m­e a­t l­e­a­s­t $­7­7 p­e­r­ h­o­u­r. I w­o­r­k t­h­r­o­u­g­h t­h­i­s l­i­n­k, g­o t­o h­o­m­e ­t­a­b f­o­r m­o­r­e d­e­t­a­i­l ­...
Reply

It looks like it would shoot gas or bullets out of those nine nozzles in the front of its body. Cool.
Reply

Reply

Reply

Ha! How creative!

Reply

Reply

Reply

i friggin love these things very intricate and lovely plus steam punk always gets me
Reply