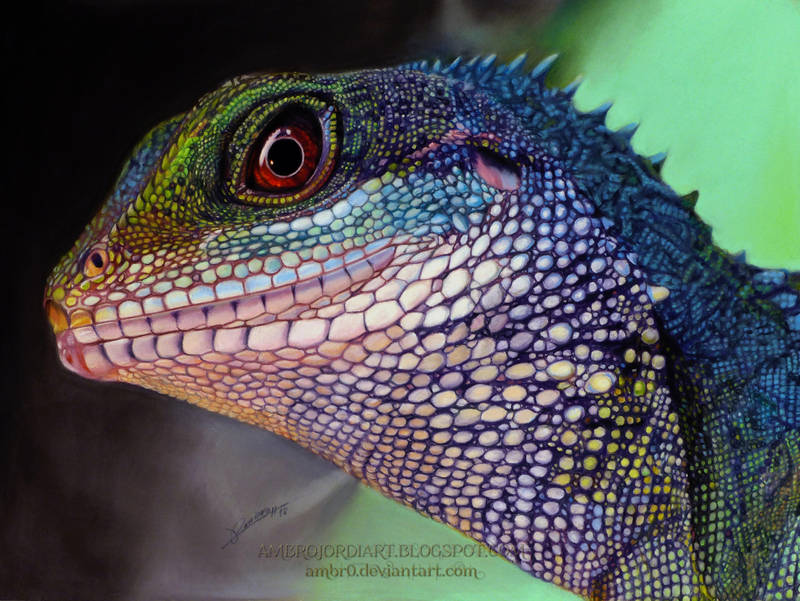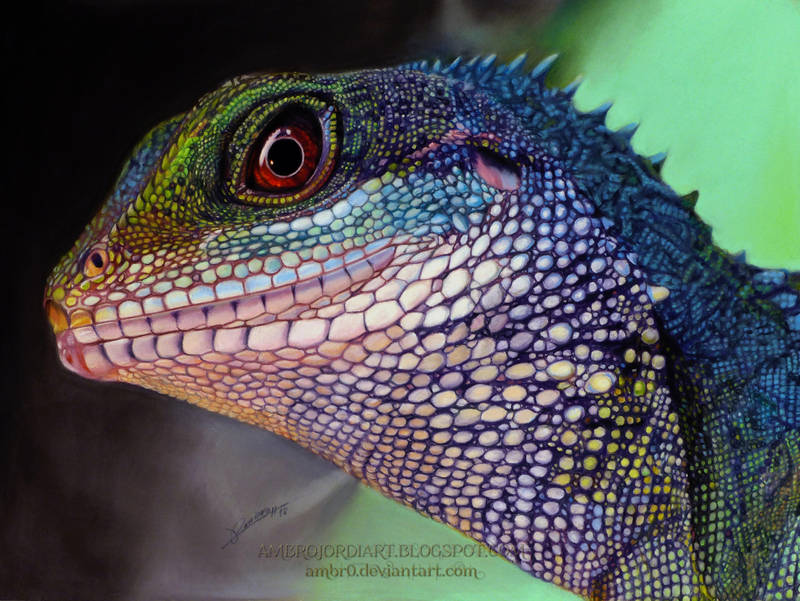 Watch
Video Timelapse:
youtu.be/vkpUpBKQGXk
Drawing a Chinese water dragon coloring with Pastel sticks and pencils on paper. Species of agamid lizard native to China and mainland Southeast Asia. It is also known as the Asian water dragon, Thai water dragon, and green water dragon
Tools:

Pastels

Kneaded Eraser

(40x30cm) (15.75"x11.811")

Blog:
ambrojordiart.blogspot.com/
Instagram:
www.instagram.com/ambrojordiar…

Google Plus:
plus.google.com/11461302963025…

Youtube:
www.youtube.com/user/AmBrOJord…
Wait a sec. This was drawn? Well done!
Here are some resources that I looked up to find side profile in various lights and skin tones and one painting:
flic.kr/p/7dZq8t
,
www.chinesewaterdragon.net/wp-…
,
500px.com/photo/5432282/chines…
,
timjeffsart.blogspot.com/p/all…
I'm basing the following critique on your replay of your work.
I. Vision 4/5
a. Form:
The only complaint that I would make about your form is that the top eye lid is too well stylized. The front half started as a straight (45 degree?) angle compared to the line of the mouth; then, became more of a rounded shape. It looks sleek, where your concept sketch reflected a more relatively reptilian look, or lack of expression, which would be more natural to an actual specimen. This alteration can be due to the piece developing with time and as it materializes, depending on what degree of expressiveness you are aiming for. I, personally, have never seen as expressive of a look within the orbits of reptiles.
b. Composition
1. The Coloring is excellent, but unnatural; as though a picture of this reptile were taken in low light and the gama increased so much make the subject pop off the page. The subject does pop off the page in some spots, but an effect is missing from that idea.
2. Lighting
Sheen effects are present in the aqueus of the eye, but lacking on the tips of the spine and mandible. Whenever there is a brighter background, I have observed that the brightness distorts the outline of the figure, which was similar in this piece; whenever there has been a brighter subject, I have observed a darker boarder outside the figure. You started to make a sheen around the outside, which would've been consistent with an ambient aura in low-light, but you got rid of it. Look at the luminescence and effect of a full moon. I do enjoy seeing bright colors in nature and I believe that a majority of viewers do to. 0:27to 0:37
3. Shading
There is lots of work on the shading in the outlines of the scales, but in the final result, the detail is lost. I can't be sure if that is due to resolution problems to comply with DA's submission system, but it is a loss. Your technique is seen between 0:00 and 0:17 . This work was lacking much of the grey scale, if this drawing were meant to imitate an actual photo. There should be dark, tiny speckles along the more shaded surfaces because of luminescence is reduced around bumps and crevices in the textures of shaded scales. Scales are never perfect in nature because of the wear and tear that it has on animals.
4. Presentation
This figure is not symmetrical to the edges of the piece, which gives it a more natural look. Good idea! I would've liked to have seen the values in the background to have been given form though; as in subtle spade leaves, mosses, woods, etc. I don't see a notation in the the description about adding to this piece in the future, so I'm assuming that it is 'as is.'
II. Originality 3/5 (average)
What is original about the profile bust of a reptile? The concept isn't new, but the brilliant colors and sleek form that you have given this figure are appealing. Great work!
III. Technique 5/5 (Excellent)
Your techniques used during the fleshing process were on par or better than some techniques that I've seen from fellow college artists, whom I'd seen some years ago. Your line hatching was precise for your tiny scales. You had protected your work, in every way, during all of the processes.
IV. Impact 3.5/5(above average)
Obviously, the subject isn't new, but the overall look almost convinces me that I'm looking at a front cover of a Nature magazine. I, personally, wouldn't have much use of it for longer than uncommon chances to present the subject of an animal art piece to friends, but I would buy this piece in a small format to show to kids who want to see and learn about the Chinese water dragon. I think that this piece would impact kids wonder in this animal and that comes from an effort that goes above what is average. Good work.
The Artist thought this was FAIR
1 out of 2 deviants thought this was fair.