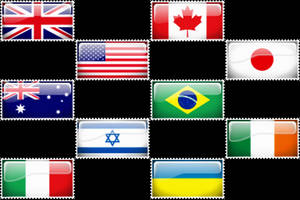 COUNTRY FLAG STAMP COLLECTION
Show your support/allegiance to a country by proudly flying the flag on DeviantART.
---

Description
22 May 2009 uploaded version 2
In version two I wanted to go for a much cleaner look. The old version was too messy and dark, so I wanted something simple and stylish in version two. I hope I achieved that.
Here's the a bigger version of the pen I drew:
[link]
It's a little too fat but if it was thinner it would be too small on the stamp.
I hope that you all find version 2 much more pleasing to the eye than the original!
Edit:
Thank you for all the faves!
If you have some art that you've done with your tablet, I'd love to see it, so drop me a link!

Edit:
Do you not have a Wacom? Do you not like Wacom? Do you believe that it's about the art and not the tablet? Here's a stamp for you:
[link]
Image size
99x56px 38.02 KB