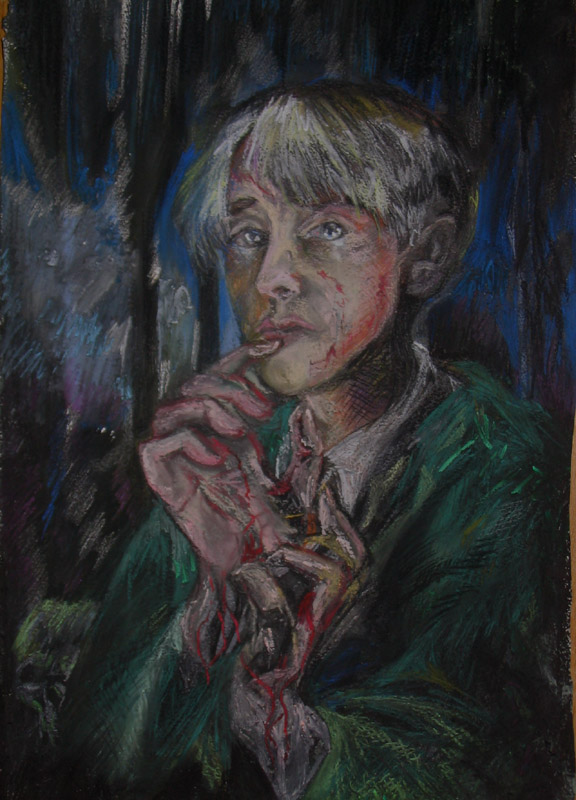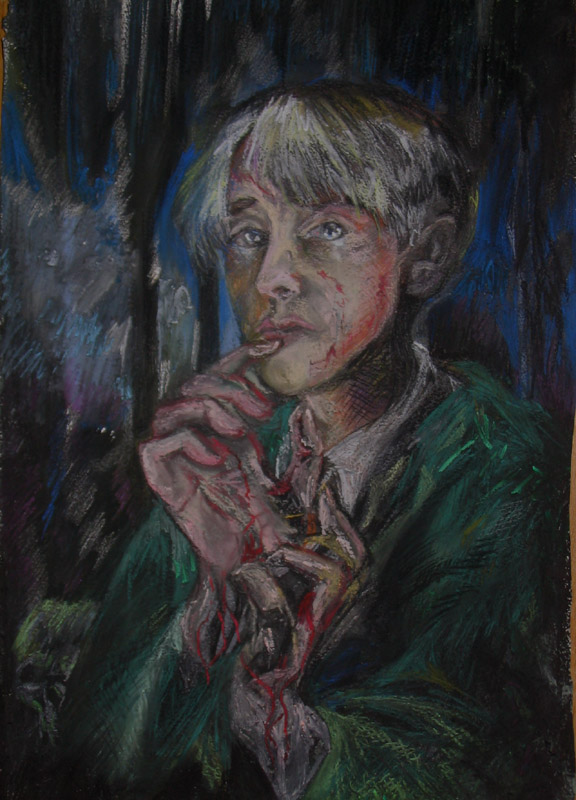 Watch
WORK IN PROGRESS!! The title, Noctivagus, means, in latin, roughly translated, "wandering at night alone." There will be a piece of writing attached to this description which expresses SYMPATHY for both Draco Malfoy and Severus Snape, so if you disagree with my views on those characters, don't bother to comment just to trash my views on a fictional story. Thanks.
HALF BLOOD PRINCE SPOILERS will be involved in discussion of this image! BE WARNED!

********
****
*****
**********
****
**
**
**
*
I've been struggling to come up with a work for some time now that describes Draco's visual and emotional state directly after the chapter "The Lightning Struck Tower." This work in progress, done with chalk pastels on watercolor paper that I covered in a solid black india ink ground, seems to finally sort of be hitting the mark. I was in a state of artistic block when, as often occurs, it came to me to just free write a scene between Draco and Severus Snape in the forest during their flight, after Snape Disapparated them both from Harry's sight. DISCLAIMER: Apparently someone by the name of
already wrote a scene very much like this, except for the fact that it takes place in Spinner's End instead of the forest. I SWEAR I WROTE THIS BEFORE HAVING ANY AWARENESS OF HER FIC.
Ok with that out of the way, here is the snippet that goes alongside this image. Suggestions for improving the image itself, which is NOT finished, are in this case quite welcome. I am actually spending TIME on this one; it's not my typical frivolous four-hours-and-it's-done fanart. THANKS

With his freshly adolescent beanpole body, Draco crossed the ditch in three strides. His lovely pointed face contorted horrifically, and he stumbled across tree roots. "I COULD'VE DONE IT! You MUST believe me!"
"No. You could not have done it," Snape seethed, understanding at once. "And for that, Draco, you should be most happy indeed." He sat on a partially unearthed, moldy tree stump. He did not privilege the child with a backward glance. His greasy black hair, wet from the rain and stinking of soot from the fire at Hagrid's hut, stuck to his sanguine cheeks.
Draco spluttered and scoffed, all to mask a dry sob. He balked, furious but uncertain of what to do with that fury. Snape could feel his presence, winding forward and backward in the underbrush like an uneasy snakeling. Foolish boy, doubtlessly breaking every twig and dead leaf in the whole forest floor, making such a damned racket, so self-absorbed, per usual.
The Potions Master decided to be relentless. "I KNOW you are sick of being told you are still only a child. But I do not think that your young age is the only reason for your hesitation to kill Albus Dumbledore tonight. If you are ashamed of that, and think it cowardice rather than strength, then you are as stupid and myopic as I always feared. Then you are your father through and through."
Draco stared at him. Expressionlessly. Snape felt the silence, the stillness, and approved of it. So he turned around at last. He whetted his chapped lips, sighing.
That boy was so young and thin and pale, so pure and yet so spectral, and such dark circles undercut his helpless, enormous eyes, in which the Potions Master could see his own furious reflection.
Horror icily tickled Snape's shoulder blades, back, and neck. He shivered, set his jaw, and scowled at the horizon, blaming it on the wind chill. But, God. On Draco Malfoy, rosy-cheeked and brazen, so notorious for his obnoxious self-entitlement, now reduced to a bewildered, abandoned teenager, this corpse-like stare was even more disturbing.
He was sick. More than transiently. Permanently. Somehow, Snape knew.
That God damned bastard Fenrir Greyback had done it. He had finally cornered the child and bitten him. Oh. Oh, for five minutes alone with that creature. Oh the things Snape would do….the hideous self-damning things that would yet be so COMPLETELY worth it….
Stupid and myopic? Perhaps, yes. But in truth? Draco had such potential once. Once.
"Why did you do it?….How did you do it?" the boy's voice gained a bizarre quality. It was both idly curious and uncontrollably trembling, high and tight. It echoed madly against the barren tree branches. How could it be so cold and empty here, near the eve of summer?
Snape's fathomless eyes snapped back across his protégé's face. Draco's skin alternately drained ashen and flushed bright peach-blood blotches, and, Snape saw, there were ugly little red hives bursting out on his pale, thin neck and arms. He was that distraught.
God. No. Too much. Make that stop…so revolting and sad.
Just no, damn it.
Merlin, look at his chin….they're popping out now on his chin, too….
God, Draco, just calm down….please, it hurts to look at you, Draco….
Oh, so pathetic….
Disgusting…
Such potential.
Stop. God, it must itch and burn….a child, only a child, a damned bloody beautiful child….
Such potential.
Such potential once. The first to turn in Potions assignments of a complexity that made sixth and seventh years stumble. The last to leave class because of sheer ambitious curiosity—because of probing questions on ingredients or Dark Arts history that forced Snape to look up answers in some dusty old tome. Next to Famous Harry Potter, the best Quidditch Seeker under 18 that Snape had ever witnessed. Nettled by a father who did not recognize that potential and coddled by a mother who underestimated her son's resilience. Spoiled, then neglected. Such a waste if not preserved….
Snape hated waste.
His student had just asked another impressive and difficult question.
So the Potions Master answered.
"I did not want so many doors in your future closed by being burdened with the identification of a murderer," he murmured crisply, the faintest of snarl marks rippling the bridge of his hooked nose.
Argh. So red and blotchy, they MUST hurt…..
He was trying very hard to be sensitive, but it had never been his natural inclination, and after all, HE had just killed, HIS wand still hummed hot with the aftereffect of the avada kedavra, HE was nauseated and his legs ached and he was hungry and exiled too, and he really was becoming weary of comforting this child.
Children, children, it was always about the next bloody generation and protecting it from becoming annihilated or contaminated, keeping it as the mainstay of the very future of wizardry and humanity at large….He was so sick of that duty….it was far too important and he was far too TIRED….
But his student was still watching him, still listening. The hives started spreading to Draco's sweat-moistened cheeks. Like red stains on porcelain.
Almost indeterminably, Snape finally allowed himself to wince.
"….And…. to do so, I simply rendered my ambition free of my emotions. I chose not to feel during the decisive moment. For it was necessary. Do you understand, Draco? It was necessary."
"That is NOT the only reason!" Draco erupted, the blue veins in his transluscently pale temples bulging. His eyes were wild bright burnished pewter, crazed with desperation. "I'm NOT stupid! I'm not a flunk-up! I'M NOT!"
"Nobody that I know of has ever said you were a 'stupid flunk-up,' not once in this entire affair, Draco."
"OH REALLY?" The pupil leaned towards his mentor, but he held back his own diatribe, biting his lip until blood trickled between his teeth.
No, stop.
Oh, Merlin, stop it, Draco.
Snape could almost TASTE the warm metallic flavor in his own mouth.
Damn it. Empathy was just a hellish thing for a Death Eater to possess.
Draco's sleek silvery hair, hopelessly disheveled and gnarled and mudstained, flew in all directions as he tossed his head. He made a wheezy, hyperventilating noise: laughter.
"Draco. Settle down."
The mirthful wheeze grew louder, then the boy made a sucking noise, swallowed the blood from his bitten lip, and spoke. "YOU….You're in league with them! D-D…Dumble…" He winced, great glassy tears building all too readily in his bloodshot gray gaze. It looked as though the effort to restrain tears were more excruciating for the child than the hives and bloody lip combined.
Snape knew Draco had cried every evening—truly, every damned evening— those last two months before tonight's grand climax. There had been enough days, even before springtime, when the boy had come to class or the Quidditch pitch late, or, face oddly twisted, sporadically left and entered the library during group study sessions, much to the grumbling of his peers and the hisses for QUIET from Madam Pince. Behind the boy's elongating, sleek blond hair, strategically combed over to hide his eyes, Snape had seen the reason for Draco's occasional self-exile from public surveillance.
Being of pale complexion was hell because tears left hours of visible red streaks. Snape was well acquainted to this fact, thanks to James Potter and Sirius Black and to his own father, though it was an observation the personal implications of which he would never admit. Not with Veritaserum nor upon pain of death.
After Death Eater meetings in the Room of Requirement, Snape had quietly seen Draco to his dormitories. It was a long and somber walk, always punctuated by a single event: Lucius's only son, determined to exemplify The Icy Stoicism which constituted The Malfoy Family Way, had always lied, about five minutes from the Dungeons, that he needed to use the urinal. A couple of times he pretended to be nauseous, to need to be sick in a toilet (or perhaps that part wasn't pretension at all). But each time, without fail, he came out of the lavatory with eyes red and swollen, and a downcast, shadowed expression. Snape had never remarked upon it, in tenderness or in admonition. He had just continued to escort the boy to the Dungeons, then taken to his own bed.
Oh. Draco was talking, Snape suddenly realized. And had been, probably for some time. Or rather, screaming. Screaming and hiccupping. The hiccupping punctuated every few syllables that the boy shrieked. Curious.
"He…was right, wasn't he? I could have just…when he said he could help me…I REALLY COULD HAVE JUST….Go on! Admit it—tell me the greaaat secret! What's there to lose? I failed everyone, didn't I, on EITHER damn side of this—because NO ONE thought I'd be good enough to TELL! I have NOTHING TO LOSE!" Now his thin framed 16-year-old body began to tremble alongside his voice, convulsively. He looked upon Snape with misplaced and utter contempt. He spoke again, in a hoarsely subdued, simmering tone. "You were with THEM all along." Then he hiccupped again, violently. It was absurdly childlike, revoltingly cute, and so it dispelled the menace he'd finally mustered. The embarrassment of it made it likely that he would actually burst into tears at last—right in front of Snape. A long-fingered hand absently rubbed his stomach. Perhaps now he would vomit on his mentor's black shoes.
Snape recoiled, drawing his torn black cloaks about him like a raven resettling its plumage. His bottomless obsidian eyes now burned. "That is some show of gratitude, boy."
"I HATE you," Draco hissed. Well, now he looked remarkably like Lucius, the way he cocked his chin back and pursed his lips. " I could have…YOU could have… I HATE YOU…."
"What makes you think I DIDN'T? There are things you may NEVER know or understand, BOY." Snape's breathing became irregular; his irises were too dark to discern it, but his pupils began to dilate. He hesitated, then added cruelly, "I highly doubt your father would have made the efforts your mother and I just made on your behalf. In fact, I think your father would abandon you in miserly shame." He drew closer to the boy's face, his thin lips contorting with his words. "But would you have spat on him? The way you pushed her away and then derided me? Do you see what is flawed in your logic, Draco? He cared nothing for you before the Dark Lord came to you, and he still cares nothing for you. ACCEPT IT. Without HIM, you would be in BED right now, in your dormitory, between your damned cronies and groupies, and the worst fear in your mind would have been whether you had adequately practiced your Wronskei Feint. You are here in this MESS, offering up desperate loyalties to THAT CREATURE, because of YOUR FATHER. NOT ME. Not your MOTHER. HIM. Take it OUT on HIM."
Draco paused, and blinked up at Snape, who was still an inch or two taller than him, despite his growth spurts of the past couple pubescent years. He bowed his head, slowly, as though in shellshock. His eyes withdrew their sharpness, becoming vague, and his posture went limp. And then, without any capacity to restrain it, head bowed and hands flopping to his sides, the boy dissolved into explosive, utterly exhausted weeping.
Snape was both satisfied and disconcerted. "Stop that. Calm down. Draco, stop it." He suddenly appeared very tired himself. "I said STOP."
"They're going to die." The words were barely discernible between gulping, heartbroken sobs. "Mum and… f-father, and y-y-you too, when he finds out about you. And m-ME….I'm g-going to DIE….he BIT me…I'm a….Greyback BIT ME….."
Snape's honesty was merciless. "No one is going to DIE, Draco. I made the Unbreakable Vow so that your parents, you, and even that damned Harry Potter, would be spared. I KILLED for you. And Draco. You may be a werewolf, but you are NOT DEAD and I shall see to it that you REMAIN thus. Now STOP."
"I'm sorry, Professor," Draco moaned. "I couldn't have done it. Okay? Not for anything, not for anyone, I'm sorry…."
"Good," Snape retorted irritably. "That is good. You mustn't apologize."
"….He tried to protect me…."
"I know he did. That was the mettle of Albus Dumbledore."
"Why am I supposed to kill people like that? I don't really get it anymore. All that glory talk. I don't get it." Now Draco was scratching at his hives. They started bleeding.
Stop, Draco. Dammit! Snape felt the itching and burning. Tasted the blood. It hurt.
"You're not supposed to 'get it.' It is for no purpose but power. Which, when unrestrained, is self-annihilation."
"Sir, I…"
"Draco, just settle down. Do you hear me? Stop thinking about it right now."
"…Do I have to see him again? Soon?"
"Who?"
"V..Vold—"
"Not tonight. But tomorrow, yes."
"…Will he punish me? My…fath…my family?"
"…I don't really know, Draco. But the Task has been completed, one way or the other, so I cannot imagine he will be TOO terribly angry."
"…..Professor Snape, I want out of this."
"When tomorrow comes, Draco, we will begin to think of just how to accomplish that goal. For it is necessary. Do you understand now?"
"…Yes, sir. I do."