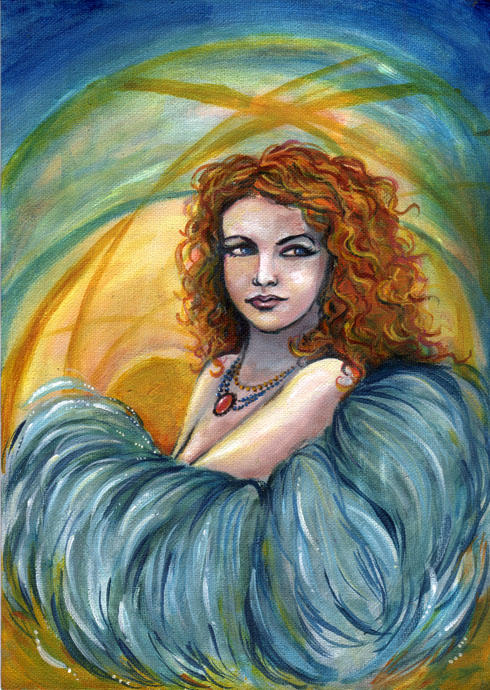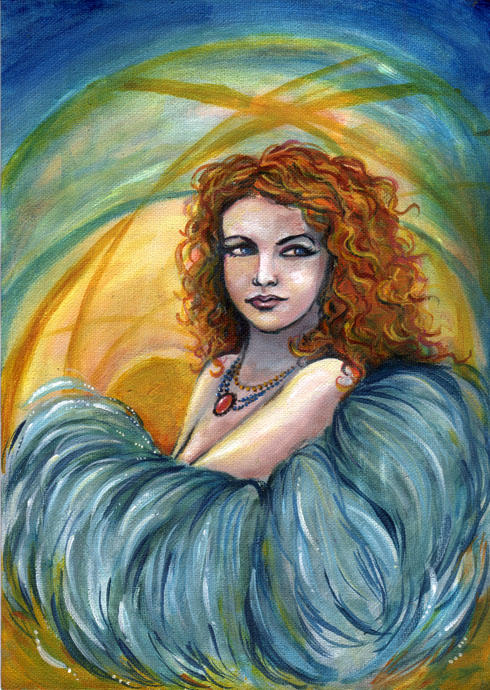 Watch
Freya. This is part of a goddess series I am doing. Acrylic on canvas, 8 x 11.5 inches.
I got a real 70s vibe when I was painting her... it kind of bothered me.
"In Norse mythology, Freya is a goddess of love and fertility, and the most beautiful and propitious of the goddesses. She is the patron goddess of crops and birth, the symbol of sensuality and was called upon in matters of love. She loves music, spring and flowers, and is particularly fond of the elves (fairies). Freya is one of the foremost goddesses of the Vanir."
"Her attributes are the precious necklace of the Brisings, which she obtained by sleeping with four dwarfs, a cloak (or skin) of bird feathers, which allows its wearer to change into a falcon, and a chariot pulled by two cats. She owns Hildesvini ("battle boar") which is actually her human lover Ottar in disguise. Her chambermaid is Fulla. Freya lives in the beautiful palace Folkvang ("field of folk"), a place where love songs are always played, and her hall is Sessrumnir. She divides the slain warriors with Odin: one half goes to her palace, while the other half goes to Valhalla. Women also go to her hall."
source
[link]

I can't say this enough Lee, I ADORE your paintings!
It's the colours, the movement, the strength of the subject - everything really!
She looks confident & powerful. Can't wait to see more in this series...
Reply

awww thanks!! you keep a girl in business with your commentary

Reply

One day... Yes one day I'll have some cash & I'll be buying something of yours...
Really, I love your style... Just does something for me

Reply

great job

a like her hair and eyes

Reply

She looks proud and sure of herself. Lovely depiction of a powerful goddess!
Reply

She sure does get around!!!

Love the hair(another redhead).
Reply

Her skin is made up of such lovely tones. And her expression is gorgeous. Great job

Reply

She is lovely though I admit the back and foreground around do have a 70s vibe but hey if there was a Goddess influencing the 70s Freya a goddess of love and fertility that loves music, spring and flowers sounds just about RIGHT lol
Reply

yes I guess she was the original flower power sex kitten LOL it all makes sense to me now!!
Reply

I think you did a great job!! especially on her skin tone and hair!
Reply