Thanks to

and

's requests.
Rules
:
1.Post all the rules
2. Post 8 facts about your character
3. Tag 8 other people
4. Post the character's name with their owners
Character
:
Heather Yagel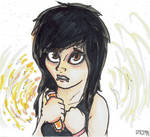 Heather suffers from ADHD and was held back a grade early in her schooling.
She is in the same class as Issa Powers, Aeron Ryans, and others.
Heather is very distantly related to the famous Dr. Jekyll on her father's side ("Yagel" is a phonetic corruption of "Jekyll.")
Heather is very artistic and excels at grayscale portraits. She has a large portfolio she never shows anyone.
Tends to get picked on by her classmates for her small build, shy nature, and acquiescent personality.
She admires Issa Powers and has a girl crush on her.
Heather's parents divorced when she was ten, when her father had an affair.
She's a romantic at heart and, while she tries to see the good in everyone, she has a lot of frustration with her lack of agency in life.

Character
:
Roxy Hyde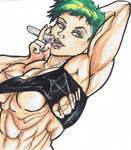 Roxy is the empowered manifestation of all her alter-ego Heather's suppressed frustration and fury at the world.

Her strength, endurance, reaction speed, and dexterity are all well into the superhuman range.
Heather's kind, unfocused nature transforms into Roxy's wicked calculations.
Directs her acts of violence towards authority figures - deserving and otherwise.
Has a punk-rock scream loud enough to daze and disorient many foes, but her sensitive hearing makes her susceptible to the same kind of attack.

While she doesn't have her rival Super Shoujo G's brute strength, she's faster and more agile, and loves to fight. Will sometimes let SSG "capture" her for an opportunity to tease and frustrate the superheroine.
The first time Heather transformed into Roxy, the Hyde took out her fury on Heather's father by utterly destroying his BMW.
Roxy is never completely dormant in Heather's mind, and seeks to guide and strengthen her alter ego by goading her to be more assertive.
Heather and Roxy originally featured here: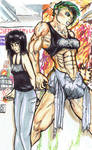 My tag choices: (Participation is voluntary and all in good fun)



Karen/Karen Alter


Alexis


Emily Rockwood


Lurisa!


Cyanide


Sara Novak


Artace


DJ Jessy da Bandit