TABLE OF CONTENTS

Art Commission Guidelines
Art Commission Price Chart(s)
sketch
flat color
cell shade (chart IP)
painted (chart IP)
backgrounds (chart IP)
item art
Comic Commission Information
Editing Commission Information
Literature Commission Information
Reviews and Recommendations


---
ART COMMISSION GUIDELINES
info and links coming soon!

ART COMMISSION PRICE CHART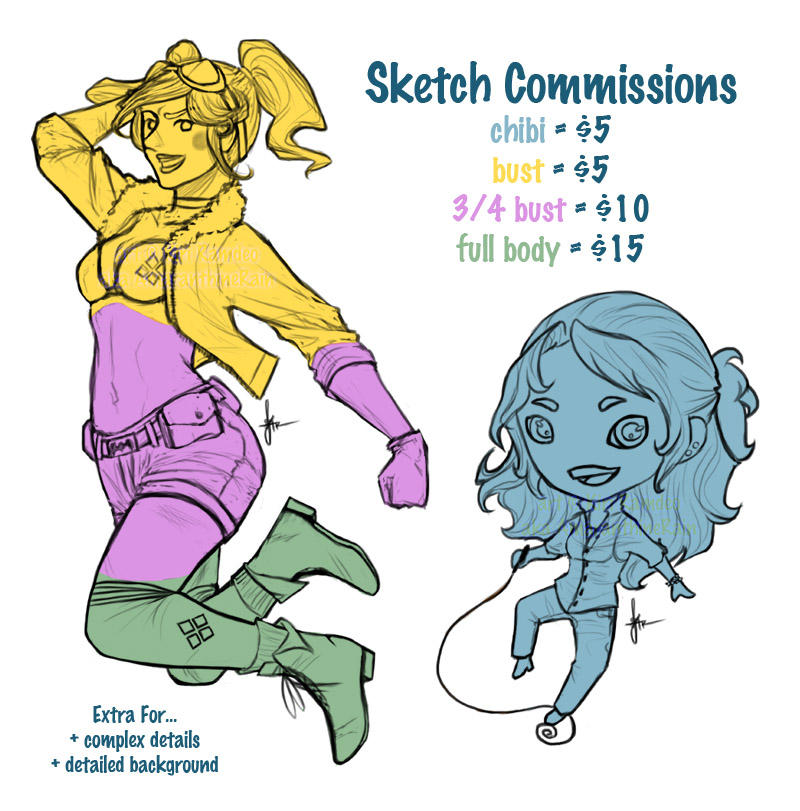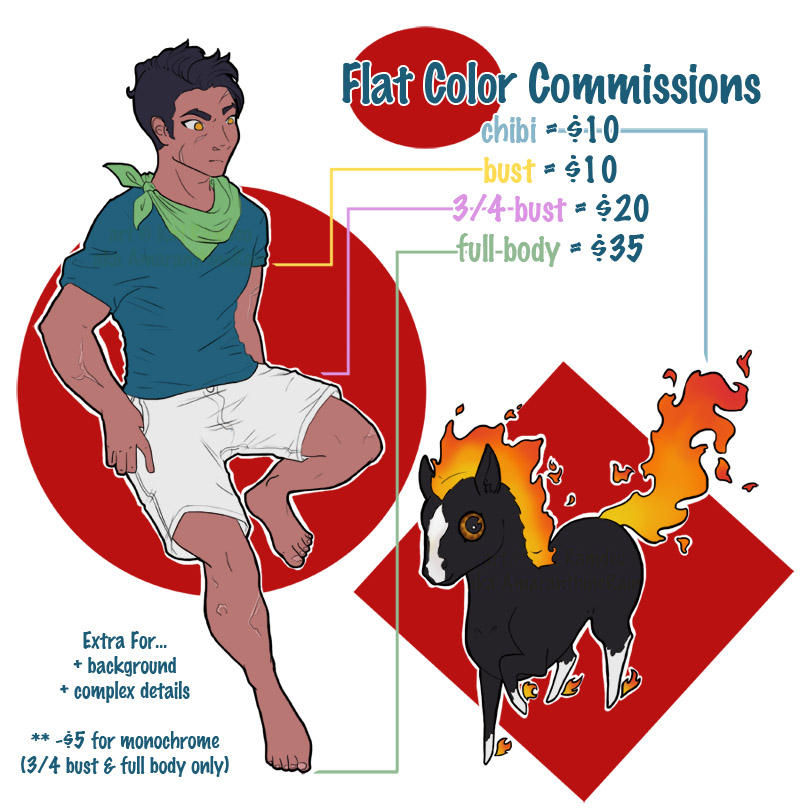 *** lined simple / cell shading info coming soon! feel free to ask for a quote***
*** detailed painting info coming soon! feel free to ask for a quote***
- ITEM ART COMMISSIONS -

Individual Items
$2.50-$5 depending on complexity (can be stacked with a package)
Packages
$20 for
5 unique items
(medium detail) including up to 4 simple recolors per item
COMIC COMMISSION INFORMATION
more info and links coming soon!
EDITING COMMISSION INFORMATION

I'm really thinking about the Chibi horse things Something cute

Maybe a preg Lonan with Rackam or Wolfsbane with Iris, heavy in foal. Hmm

It's cute, isn't it?

I stumbled on the chibi horse style by accident just goofing off drawing my pony Swift.
Awww either of those sound cute!


Hi there! Thanks for your inquiry!
In order to give you the best estimate, can you let me know what are you looking to have written and how long will it need to be?
Something 2000, to 3,000 words long written as a description of a place, person or group.

Hey Burning! Sorry for the delay, been organizing deadlines for a certificate.
Written commissions (as in text I am drafting myself based on what you've given me or need detailed/written out) are $6 USD per 1,000 words (which is roughly 2 pages). If you're still interested, please feel free to note me and we can continue working out the details of your commission. Either way, thank you so much for your time. Looking forward to working with you!
I have no PayPal (messed up the phone number bit), but I might commission you if I did. The only problem is the sheer number of words my project has to write.

Uh oh! Unfortunately I don't take points - I don't use them for anything. Maybe you can use an alternative like Google Wallet?
The project sounds interesting. Is it like a RP group thing?
Does Google wallit need a phone number?

Galas Malatar is an worldbuilding project. I *could* RP in it, but lore is a bit rare on the Zu'Aan. I posted an ad looking for writers, but it has a bit of backstory on it, Do you want a link to the advert journal?

I actually don't know; I've only ever used Paypal...
It sounds interesting. Sure, post me the link, I'll at least take a look at it. Sorry I can't do it for points - I really have nothing to use them for