News
As most of you know that i have already released
my first wordprss theme release
amandhingra.deviantart.com/art…
and its time for the second one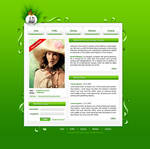 Green Design Studio is a theme designed with the intent of
being platform for your personal portfolio showcase as well as
working blog. The themes homepage highlights your recent
featured projects.
Some of its features are:
Featured work showcase
That will show your featured work screenshot only from that category
Cool Jquery effect
Nice and smooth effect for the side bar
Fixed, 2 column layout
Looks perfect in IE6
Widgets Ready
Theme Contains:
Green Design Studio Theme files
Requird PSD file to Change Top Navigation
Documentation to install and use theme
You can use the theme for all your projects for free and
without any restrictions. However, it's forbidden to sell
or redistribute the theme without both designer's and
httpArtist permission — please link to this article if you
would like to spread the word. You may modify the theme as you
wish, but if you are planning to release your modification,
please ask our permission first.
please


it and give some

if you think that
others also should know about my wordpress free theme series
---------------------
You may also interested in my other wordpress FREE theme
Studio Rachna
avilable for FREE download
at
And i m also thinking that will upload some of
my psd files also for free download on this site.
so that most of you will use for your own project
and as well as learn some of technique i use
Visit this site