2 Favourites
9 Comments
631 Views
Hope Drifts Deeper
Deep soundings numbness, chorused whale song;
Chittering movement surrounds where no oxygen is
Grinding slowed depth noised forced echoes
Cracking basalts crusted nightly measured plumbings
Crushing pressured ruptures sear unidentifiable
Clutching clotted mentions as combinable
Blackness swallows gutted depths constricted
Body tossed compacted in lamented losses.
(repeated) as (conviction.fades) (depth)had(costs)
That moment fluttered quickly where opportunity
Chanced us "join and revel"; if only one or both of us
Had known, grasped fast; now so out of reach behind.
Had we just that tiny bled out cut in time, had hope
Survived.
© Amanda 2012
6/11/2012
Things grey eyes see that gain groans of solitude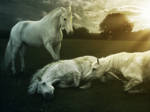 White Sunday 264: fleshwords be damned, as I am.
I crave the eloquence of your flesh,
meshing with mine in divine communication.
your message clear and certain.
I would command the veils be ripped apart
as you would my heart if what passes
between us were to be proven a lie.
punctuation of every persuasive opportunity,
wet and hot and taut and tight, a delight
that burns me but leaves me feral
for the next carnal immolation.
you alone speak the language of the lover
that translates into divine revelation,
consecrated in your glossolalia
as you receive my sacraments.
no need for prophets or poets
when we see with eyes
of stained glass and fire.
and feel ourselves burned pure
in carnal reconciliation
in a religion of Stygian baptism.
words be damned, as I am.
William F. DeVault. all rights reserved.
:thumb303014070: