Current Residence: In the Shadows of the Rising Sun
Favorite genre of music: Anything but Death Metal
Favorite photographer: Does Frank West count?
Favorite style of art: Anything interesting, mostly Anime & Manga
Operating System: Windows 10
MP3 player of choice: Windows Media Player
Favorite cartoon character: The Eds (EEnE)

For anyone that's interested, I create characters for anyone to use; they all have "Open Source" next to their names in the title for your convenience.
(--Favorite Journal Entries--)
Open Source: Sargasso, The Ever Changing City

Open Source: Sargasso, The Ever-Changing City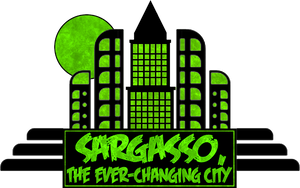 If you are or were a writer, have you ever had plans to write a story that hasn't got off the ground?
Have you planned many things for it and wrote those ideas down, such as the setting, characters, magical/technological macguffins & plot devices that are needed for the plot to move forward?
Have you ever have gotten to a point where you look at one or more of your ideas and go, "This won't work" and decided to scrap it?
Or have you ever just looked at the whole project after so much time and decided to scrap it entirely?
Well, I think I have something that writers could use, if only so that their old ideas don't go to waste.
Picture if you will: A continent made from a hodgepodge of vastly different locations from all across time, space and the entirety of the Multiverse, like someone used hundreds of vastly different model location sets and put them all together into a massive collage.
And imagine this continent ontop an almost infinite sea of
This is a Superhero / Urban Fantasy setting where there is a metropolis in The Super Sargasso Sea. And this city is made up of many city blocks that have been shanghaied from many dimensions and all collected and organized by what time period they came from. So there are districts made up of city blocks from the 1910, one from the 1920s, one from the 1930s and so on. And with each new piece that ends up in The Super Sargasso Sea, comes with it heroes that try to protect their new home from many threats from both inside the city and beyond it's borders, many crime bosses that want to take control over the city, giant monsters that act more like a natural disaster and other wonders.
So if you're someone with character concepts that you've scrapped, concepts for plot devices and macguffins that have been scrapped, or just stories that haven't got off the ground and/or never finished, maybe you can give those concepts a second chance with this setting.
I'm constantly adding onto this setting so that people can have plenty of material to work with.
Open Source: Tulpaverse

Open Source Idea: TulpaverseWhile I was lurking around Tumblr for s***ts and giggles, I read a post about Jojo's Bizarre Adventure that said quote, "what's a jojo? From what i understand it's about people who summon fursonas to fight for them" unquote.

Which, to be fair, isn't exactly wrong. But you can also say that to describe games like the Persona series, which also involved characters summoning manifestations of their inner mind or soul. And for some reason, what that person wrote got me thinking about the Tulpa.
If your confused as to what the hell a tulpa is, let me explain. A tulpa is a creature given physical form from its creator's thoughts by an exercise of will. The idea derives mostly from Tibetan Buddhism and is cited most explicitly in the works of the French mystic Alexandra David-Neel. Essentially, since Buddhism holds that the material world is an illusion created by the mind it should be possible for a sufficiently lucid mind to insert anything it chooses int
This is a setting where Earth has experienced a global phenomenon where many humans and animals have gained the ability to summon physical manifestations of their mind.
PD Trademark Name Game

PD Trademark Name GameHere is a list of PD heroes that are legally in the Public Domain. Some of them are ones that DC and Marvel already use, but there are some of their characters that just have the same name as the PD character. This list came from a topic on the Free verse Forum about what names to use for projects that involve PD characters, with a few of my own additions. This list is for those who want to do these characters for either a project for fun or one for a commercial product, but don't want to risk getting the C&D sledgehammer down on your kneecaps.
Blue Beetle: Bulletproof Beetle, Sapphire Scarab, Blue Bug, Brawling Beetle, Buster Beetle, Blue Brawler, Cobalt Beetle
Daredevil: Diadebul, Dangerdevil, The Dauntless Devil, Double-Back, Devil-May-Care, Devil-May-Dare, Daredevil Jack, Stuntdevil, Boomerdevil, Daredemon, Stunt Satan Razz, DevilDare, Devil Daring
Captain Marvel: Captain Whiz-Bang, Marvel of Thunder, The Mythical Marvel, Captain Marvelous, Captain Thunderbolt, Captain Lightnin
You'd be surprised how many mainstream superheroes are actually in the Public Domain, though when you do decide to use that character for your own project for commercial use or to make it separate from other versions, here's a handy list of possible names to use so you don't have to worry about companies like Marvel or DC sending a Cease and Desist Letter, or worse, get sued by them.