Amalgamation is a Universe where a multitude of Sci-Fi videogame universes fit together as one, with it's own timeline, galaxy map, canon and comics. Images are organised into folders on the left:
amalgamation100.deviantart.com…
---
This is my belated poster for my "Citadel Vs Covenant" Event, more information on that can be found here:
Related Media and extra information about this battle/the story (Black and White Size Chart has calculations/comparisons of each sides technology):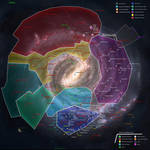 DISCLAIMER: Before you comment about the technological difference or that Mass Effect can't beat Halo you should read the entirety of this post I did calculating the aspects of both ships, I put in a lot of work and math to do this right so if you're going to comment be educated first so I don't have to continuously say the same damn shit over and over.

I'd just like to add that, when I setup this scene, thanks to my size comparison chart I was able to size everything properly. Everything in this image is actually sized proportionately but the distance does what you see here haha. Those Turian Fighters are so close to the camera they're almost
in it
. And there was actually a group of Human ships in this render along with a few Mac Platforms but they've been swallowed by distance and pixels, I've checked you can't see them, which is cool because that's how far away the Dreadnoughts and Super Dreadnoughts I had in mind for image would be and I don't have models for those, and there's supposed to be more Covenant vessels in this fight but they'd be out of frame, the charge is being lead by the three Assault-Carriers. The size chart also shows the difference in science and technology between Covenant and Citadel forces. Just thought that it might be interesting to some people, let's get into the backstory behind this image...
---

The second battle of the human fortress world Reach, 2183 in the Amalgamation Timeline.
The Geth had hit Eden Prime a few months earlier into the year, right when the Covenant had there metaphorical heel on humanities metaphorical neck. They attacked the Citadel right before the Covenant had made it's way to Reach, and humanity sacrificed a portion of it's Fifth Fleet; one of the only fleets it had left, to defend the Citadel and save the Destiny Ascension, thanks to Commander Shepard's on the ground advice. When the Covenant showed up to Reach the UNSC had little in the way to reinforce there garrison of 130 ships, and 20 Mac platforms. The Covenant showed up with a force of 750 ships, the battle was lost to the UNSC with the Covenant suffering 290 ship loses, slightly more than in the traditional Halo Universe due to the better technology of the Amalgamation Universe available to humanity (262 in traditional timeline).
What was left of the fleet of Particular Justice, approximately 226 ships, pursued the Pillar of Autumn into slip-space which left 234 ships to finish glassing the planet, but the events leading up to this would change the war forever. Because Humanity had earned it's seat on the Council, and selflessly sacrificed it's own ships at a time of crisis to there own people, the Council and all the species within it owed them a great debt. A debt which would throw the Galaxy into utter war.
The Citadel fleet arrived with
one thousand
Frigates and Cruisers, split between the Turian, Asari and Salarian hierarchies, with Turians supplying the majority of it. The Asari and Salarian each brought one Dreadnought for support, and the Turians committed two and one of the legendary
Super-Dreadnoughts,
which all kept there distance, sniping at the Covenant Assault-Carriers whilst they were swarmed by
hundreds
of Frigates and Cruisers. The rest of the fleet executed there "wolf-pack" tactics on the smaller Covenant ships, where Frigates are organised into flotillas of four to six ships. The "wolf packs" then speed through the Covenant's formations, hunting enemy vessels whose particle shields had been taken down by fighter-launched
disruptor torpedoes
. The wolf pack's circle-strafed vulnerable targets, using their superior speed and maneuverability to evade return fire. The Citadel was also accompanied by a very small token fleet of UNSC ships, a handful of frigates and three cruisers, which, to the Citadel's strong suggestion, did there best to stay out of the fight. Humanity had been exhausted from it's war with the Covenant and had little ships to spare, most of which were committed to blockading Earth. Humanities vessels sat back and watched, there as a formality more than anything, it was the human fortress world after all, they needed personnel to oversee the asset and help rebuild.
The Citadel fleet of over one thousand ships managed to overwhelm and destroy just under one hundred Covenant vessels, 94, including one of the Super-Carriers whilst severely crippling the second and damaging the third before the rest retreated, the Citadel lost 254 of there very tiny Frigates and Cruisers and took no damage to there Dreadnoughts. Reach was saved whilst only being partially glassed, and the rest of the fleet stayed to garrison the planet. It was the first time Turians had occupied a human world since Shanxi, but this time it was a welcomed occupation.
Turian General
Adrian Victus
had this to say about the coming war after Reach was liberated:
"
I must admit I was somewhat reluctant in the beginning to go starting a war with the Covenant, the strategist in me admires their brutality.... the Turian in me knows I'm staring at an Empire that committed unspeakable crimes against my ancestors in the war of Two Council's. An Empire that could very well bring the Galaxy to it's knees. And humanity has been facing them alone. What's more than that, they spent resources and lives defending us when there own worlds were burning, a feeling that my ancestors knew too well. Humans were there for us in our hour of need, and with pride, so will the Turians be there for the humans. Did you hear that, Covenant? Your twisted, sickening genocide upon humanity is coming to an end, on behalf of all Turians and the Citadel, that is a promise.
"
Admiral Steven Hackett
responded on behalf of Humanity:
"
There are no words to convey the gratitude towards what you've all done; all the Citadel races coming together to defend our homes? You can't possibly understand what this means to us, all of us. To every man, woman and child out there who's had to cower in fear, wondering if there colony will be next... you've given them hope. You've given all of us hope. More than we ever thought we could have at this point. We can't ever hope to repay you, but from the bottom of all our hearts; thank you
.
"
Admiral Terrance Hood
was unavailable for comment as he was busy preparing the Home Fleet's defences of Earth.
---
Made and rendered in Blender, using models I created and ported Gmod/SFM models.