i was planning to redraw this babe before selling them but my tablet doesn't seem to be cooperating at the moment.. if i do redraw them before they get sold i'll update this journal!
i purchased a MYO slot from cinnabutt back in 2015, and while i have made a design i haven't really used them since. on top of this, i'm not much of a furry artist/oc creator anymore and i was never particularly attached to the design like i have been with some of my other closed species ocs
so, i've decided to sell my cinna! i'd love to see them go to a nice home that will give them the love they deserve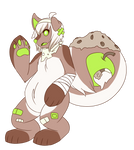 i decided i'm just gonna stick with the base price i paid at the time for the myo slot --
$30 USD
and they're all yours! if i Do end up drawing some fresh new art, consider it a bonus gift; i don't plan to raise the price at all if that's the case
the money will go towards my student loan funds (which are very very low atm)
NOTES:
- the myo was purchased and designed on my old account,
rnewls
(polterqeists at the time). i can still log in to that account and verify my identity if need be!
- proof of purchase and official cinnabutt approval here:
sta.sh/223a2sxidbos
- if i'm doing anything wrong here please let me know! i went over the cinnadog rules (myo and resale both) and FAQ several times, but it's possible i missed something -- i didn't see anything about needing to ask permission before reselling, but
please
let me know if i should!
- please check out all the cinnadog rules, terms of service and other details over at
Band-of-Butts
before purchasing, thank you!
- i will be checking for blacklisted users before making any transactions