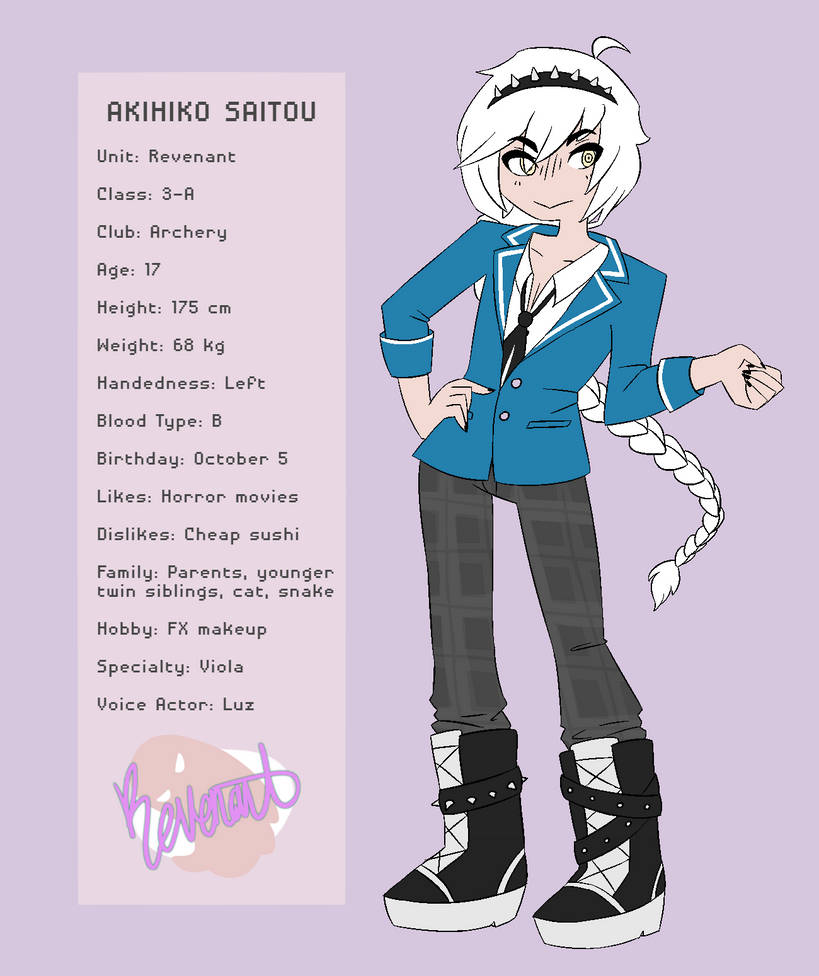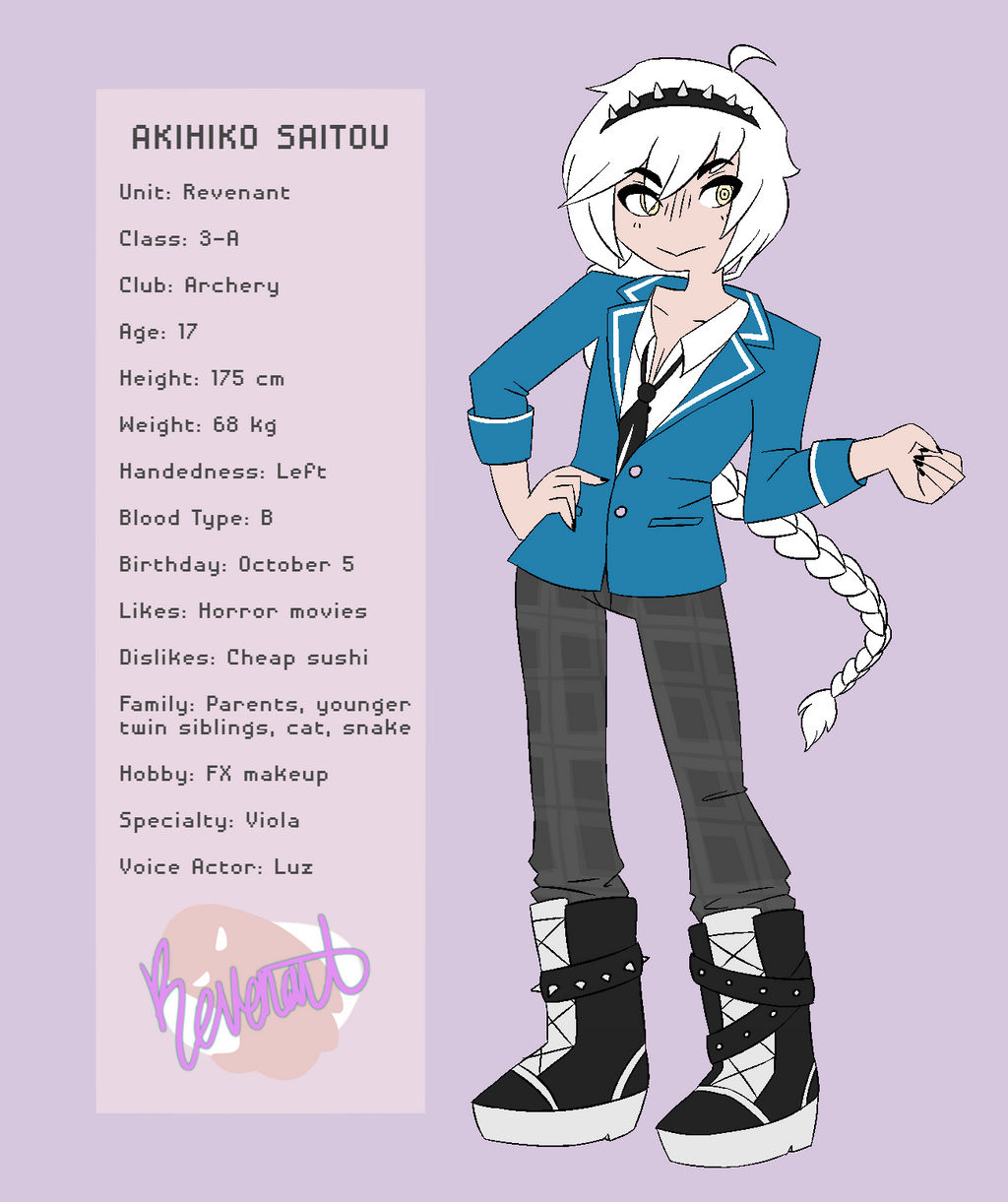 Watch
i finally caved and made a fan character for my current mobile game obsession kjdb
--
Akihiko is a surprisingly cheerful and supportive individual, despite his more occult interests. Rumor has it, his personality was much more cruel and unforgiving in his first and second years, until the devastation from the "idol war" of Yumenosaki caused him to have a change of heart. However, he does still retain some of his more brutal traits when up against a formidable opponent, and will often threaten to crush them.
He is also what would be considered a chuunibyou, despite the fact that he is a high school third year -- he parades himself around with the most powerful aura he can muster, claiming to be a prince of darkness who has risen straight out of the depths of Hell. Of course, this tends to clash with his (usual) upbeat personality, but he still insists that it's true.
Before the idol war, Akihiko's unit, Revenant, had consisted of only two members -- his friend Mikio Hayashi and himself. They were nearly disbanded near the end of the war, but reformed the unit along with three new members (Misaki Ishikawa, Katsuo Kataoka, and Ikuo Nakazawa) at the start of their third year. He has since become a sort of "onii-san" to the younger members.
Revenant's main visual theme is a ghostly pastel goth one, and their music style is a mix of
denpa
and
EDM
.
Akihiko himself has an extreme interest in the horror and supernatural genres. He especially enjoys classic horror and will often drag his friends along to any events for it, such as movie screenings and festivals. Because of his fascination with strange and gruesome things, he took up the art of special FX makeup as a hobby in middle school, and has been fine-tuning his skill ever since. He is especially good at gore effects.
Akihiko lives with his parents and siblings as well as his pets, though his mother and father don't seem to care for him very much. The reason is unknown, though he has long since come to terms with their neglect, as it has been that way since he began junior high (about age 12). His siblings are a set of identical twins (brother and sister) who are in junior high, and his pets are a black cat named Yamiyo and a lavender morph corn snake named Himeko (though he usually calls her Hime-chan).
As a side note, Akihiko is very skilled at playing viola, as he has been practicing since he was a child. Since it is something that his parents used to encourage and praise him for, he continues honing the skill despite not being particularly interested in the instrument -- he secretly hopes that if he becomes good enough, his parents will notice him again.
--
art and akihiko are mine, unit logo design is by
Candy-Bat
, ensemble stars! is by happy elements

I LOVE HIM!!!!!!!!!!!!!!!!!!!!!!!!!!!!!!!!!!!! i didnt know you like enstars omg......................im so glad tho T_T i have enstars ocs.................we should,,,talk about them some time
Reply

YES i love enstars so much it's been like..... my main interest for the past few months now
BUT YES YES please tell me about your enstars ocs!!!!!! i'd love to hear about them wwwwww
just out of curiosity, who're your favourite characters? my top 3 are leo shu and natsume they're my Boys
Reply

SAME its been like since last year like??? i fuckin love enstars..............my best boys are tsumugi, tetora, tori, and hiyori fjdfjd im also super partial to sakumas and eichi,, lmfao im super switchP tho like i would Die for those boys,, i scouted my dream mugi card 2 days ago i legit fuckin sobbed my dude....................
also do you have,,discord it would prolly be easier to talk more there but like ok so my ocs
so shima would prolly get along w akihiko bc he also likes spooky stuff..............hes a cryptid he has a horribly unsettling presence and enjoys scaring his classmates with his eerily calm threatening and big ol innocent smile,, my other boy is more serious and supportive of the school his names yayoi and hes like,, eichi fanboy lmfao
Reply

GOOD CHOICES hiyori and the sakumas are also really high on my list i love those boys
i'm actually just a big knightsP in general honestly (and it's hell for actually playing the game because they're so popular and events become a warzone OOF)
BUT YES! my discord is mika#0776 hmu hmu
i love them both though wwwwwwwwwwww especially shima he definitely seems like my type............... give me All the creepy boys
Reply

I LOV KNIGHTS when i first got into enstars i was a big knightsP and i still am but...........switchee

also wtf sorry it took so long to reply idk where my head is at lmfao ill send you a message on discord tho!!
Reply

HE!!!!!!!!!!!!!!!!!!!!!!!!!!!!!!!!!!!!!!!!!!!
Reply