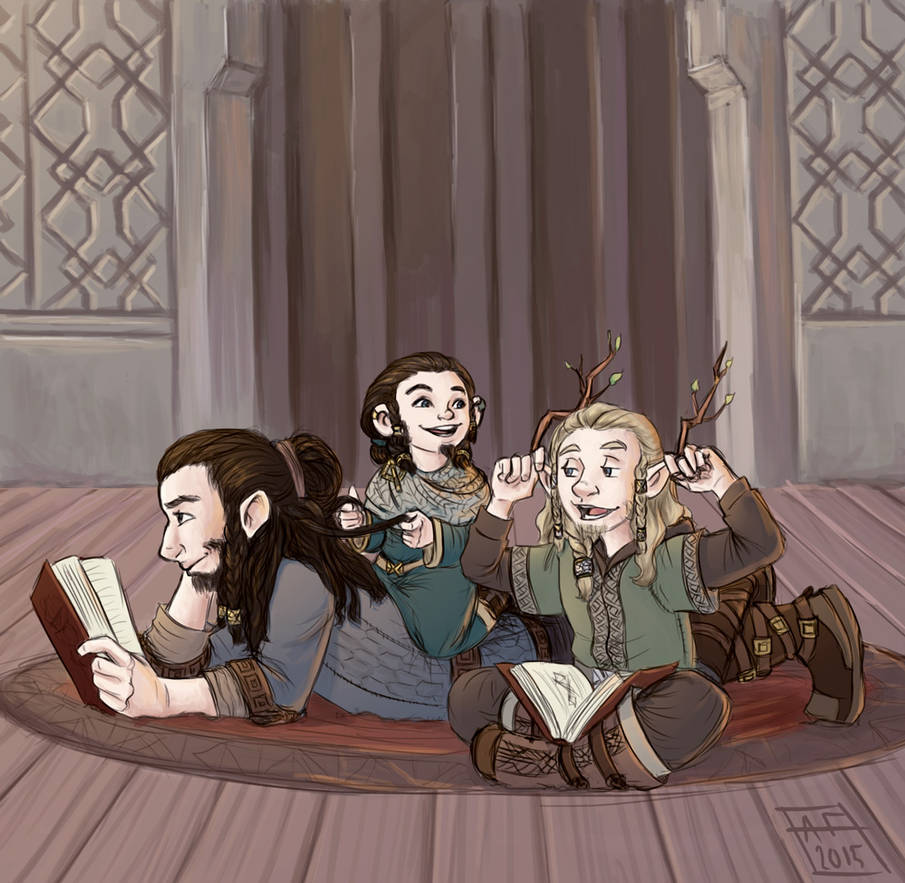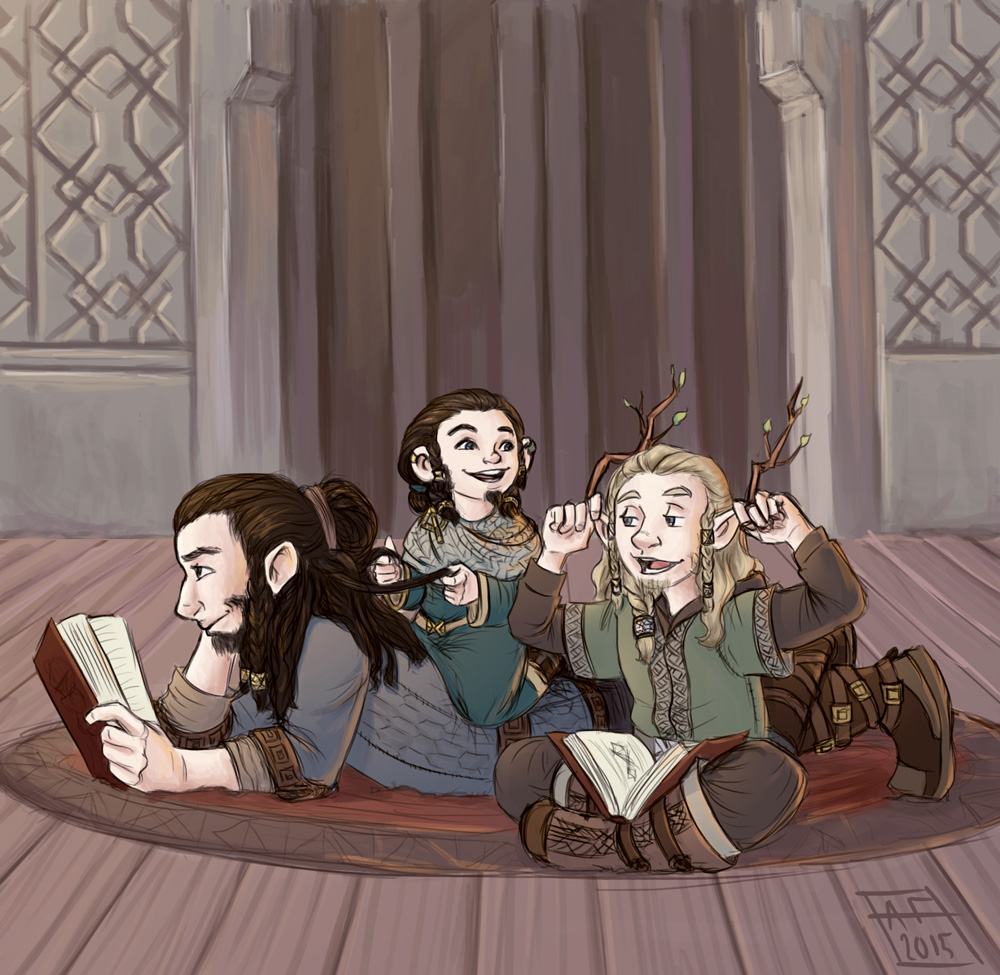 Watch
"Hey Thorin, guess who I am?"
"You're meant to be studying Frerin, not making fun of Grandfather's dinner guests."
Thorin's trying really hard not to laugh.

And I'm trying really hard to quit my baby!Durins addiction. XD Send help, I can't stop!

Reply

Reply

Hee hee, c'mon Thorin, we all love making fun of Thrandy
Reply

This is so adorable!

That /is/ a great Thranduil impression. XD
Reply

You're just churning out this stunning dwarf art.

The thing I was immediately drawn to on this one is the same as the last one...those poses. The construction and execution of the poses is amazing. So many little details that add life to what they're doing. The way the hands are holding a book, hair or twigs...the placement of the legs (love that little touch of Thorin hooking one leg over another)...it's all wonderful stuff.

Like the last one, the expressions are also so well done. That look on Frerin's face.

It has a great mix 'look at the funny thing I'm doing' and elvish pomposity.

Thorin's reaction is great too. That has a mix of 'Sigh...kids' and restraining a laugh. Dis' reaction is just adorable.

I think a mention definitely has to go to the clothing.

It definitely looks dwarvish but also casual. It looks like what they might wear when casually laying about the house. It's not something you see that much. All those little details too!

I think a mention should also go to the background. Love how you've coloured the pattern in the wall. The light source makes it looks solid and like it's been carved. Same with the floorboards. I like it's lack of black outlines too. The main subject of the picture is the three characters in front. The soft environment gives a space and location for the scene without competing for eye attention.

Okay so to finish I will say this...as I was looking at this and writing this comment, my mum walked in and looked over my shoulder and said "Did you do that? When did you get so good?"

Reply

Ahhh I know I read this before and I didn't reply because it was all too nice and I couldn't think of an appropriate response.

So I shall just say thank you.

Even now, over a year later, reading that comment gives me motivation to get off my butt and draw.

Reply

I'm confused here. You say Thorin, but then you say Frerin when that clearly looks like Fili and Kili. . . So confused.
Reply

It's supposed to be Thorin, Frerin (Thorin's younger brother who died in the same battle as his grandfather, who didn't actually appear in the books or films, just on a family tree in the appendices...my headcanon version of him does look a lot like Fili haha) and Dis (Thorin's sister, mother to Fili and Kili) when they're young.

Reply

Ohh, I getcha. I totally didn't even notice that there was a girl present. Freaking dwarves and their unisex beards.

Reply

Haha yeah no kidding! And don't worry, you definitely aren't the only one who thought that was Fili and Kili.

I did think about making my Frerin a brunette to make him more distinct from Fili, but I've been drawing him blond for so long in my sketchbook that I can't go back haha. I live blonde Frerin too much! Plus, if Dwarven genetics are anything like human genetics, it'd be reasonable that a blond or two besides Fili would show up in the Durin line (woo go recessive genes!). Heh sorry, now I am rambling unnecessarily about my justifications for making Frerin blond haha. (a few people felt the need to say they thought he should be dark haired in the tags on tumblr when they reblogged it so now I feel compelled to defend my position haha)
Reply