Aunque no sé si hay alguien que lea esto, si es así le informo que las musas inspiradoras de las artes han decidido suspirar en mi oido y darme su apoyo para regresar aquí y poner algunos dibujos y colaboraciones como hace unos meses no hacía debido a mi trabajo.
Así que he decidido traerles unos sketches de una historia que surgió de pensar en los ya olvidados What if? de Marvel, con el mega evento que está sucediendo ahorita AvsX y que no está convenciendo a muchos, creo que no le haría mucho daño hacer unos sketches de: "Que pasaría si 5 miembros de los Avengers fueran escogidos la Fuerza Fénix para ser sus huespedes"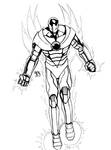 1.IRON MAN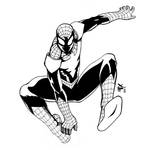 2.SPIDERMAN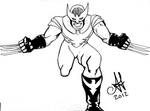 3.WOLVERINE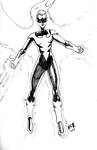 4.CAROL DANVERS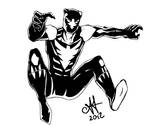 5.BLACK PANTHER
UPDATE! BONUS TRACK: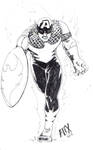 CAPTAIN AMERICA
Esa sería la primer noticia y la segunda es que mientras uno hace planes, la vida suele sorprenderte así que después de mucho pedirle a Dios [y hacer la tarea

] para que me diera la oportunidad de ser papá de nueva cuenta pues resulta que oyó nuestra petición y decidió enviarnos no una sino dos bendiciones así que el próximo año seré PAPÁ de dos lindos bebés.
Nos vemos por estos lares.
----------------------------------------------------------------------------------------------
Even though I don't know someone really read this journal, I'm gonna tell you that the Art Muses decided to whispear in my ear and give me a little bit of support to come back and submitt some sketches and collabs that have been on my desk because of my day job.
So the first sketches will be from a crazy but wiht great marketing:
"What if five members of the Avengers were chosen by The Phoenix Force to become its hosts instead of the X-men"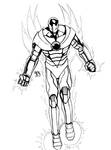 1.IRON MAN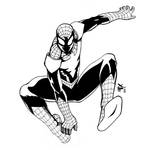 2.SPIDERMAN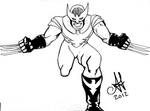 3.WOLVERINE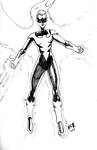 4.CAROL DANVERS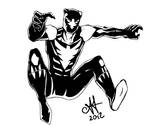 5.BLACK PANTHER
So that will be the first good news, the second is that while you are making plans, life usually surprises you and after a lot of prays, God decided to give me the opportunity to become a Dad of two beautiful babies for the second time in my life.
See you around.