Hey everyone!
I'm pretty much financially independent now, paying for my own rent and food... and my part-time job during the semester just doesn't earn me that much. While I continue to search for more present and future employment, I've decided to open commissions again!
Some of this is copied from my commission journal from a couple years ago, but the prices are slightly higher, as I feel I have improved as an artist, and my monetary concerns are a lot more pressing than they were then. They are still really cheap compared to many that I've seen!
I would really appreciate it if you could help me out. I don't ask for much and I will make every effort to ensure that you are well and truly happy with the result. If you have any questions, please feel free to ask. Note me if you are interested!
How it works
I have a Paypal account - if you're familiar with how all that works, that's great, but if not, I'll gladly help you out when you note me about your commission. This is how I need to be paid. It's easy to set up an account if you don't have one.
If you're interested in a commission, send me a note.
OR, you can email me at altermentality@gmail.com.
I'll negotiate with you, send you works in progress, etc. I want to make sure you're happy with what you're getting. When we've cemented the way the art is going to look, I'll start working on the inking and coloring. When I get your payment, I'll send you the final product.
When I get a commission request, I will make it a high priority, so that you can get the finished product as soon as possible. Upon its completion, will send you a large, high-res version, and you can do whatever you wish with it (besides claiming that you made it, of course). I will also upload a smaller version here onto dA.
What to ask for
If you request a commission from me, chances are you've been watching me and you already know what I'm good at. Nevertheless, here are some hints:

Animals, anthros, and cartoony humans are my specialties. My greatest strength is in expressions.

I will gladly do fanart of just about anything, although if I'm not familiar with the characters I may need you to help me out in finding references and such, just to make sure I'm portraying them well.

I will also draw your original characters - once again, please help me to make sure I portray them to your liking.


If you want, I will also draw just animals, mythical creatures, or any scene you envision.

I'm pretty open to pairing pictures - even if I don't support it myself, unless I have an active objection to it, I might do it anyway. However, I have the right to refuse to draw anything that makes me feel uncomfortable. Please note: some things that I absolutely cannot abide by are pedophilia and incest.

I WILL NOT draw art that I feel is being asked of me just to fulfill some kind of fetish. This is up to my discretion. I don't do feet, inflation, any of that stuff.

Please don't ask me to draw giant mechas or something, unless they're really cute simplistic robots. I'm just not very good with mechanical stuff.
---------Pricing------------
$3 - Cuties
These adorable little guys are a calling card of mine, starting with a project in which I drew every character in the Banjo-Kazooie series. But now the style is available for your OCs, fan characters, or favorite characters from any cartoon, movie, game, book, or whatever, for only two dollars each! They work great as avatars!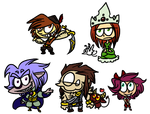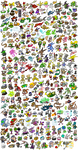 $5 - Simple Portraits
Done in Flash or Photoshop, these are charmingly cartoony depictions of whatever character you wish. May be more or less detailed, depending on the character in question - but I will show you WIPs as I'm working to make sure you're happy! Check out these examples.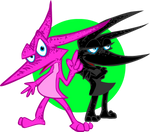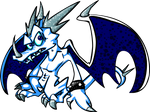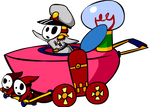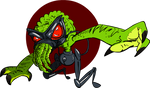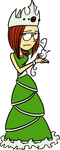 $8 - Detailed Portraits
Like the ones above, except these will be more detailed, with texture and shading.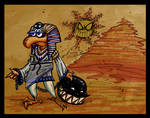 $15 - Photoshop Scenes
More detailed and textured illustrations done in Photoshop involving a scene or multiple characters interacting. I think these examples speak best: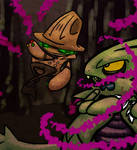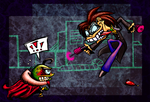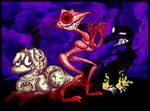 $15 - Vector Scenes
Similar to the Photoshop Scenes, but just a different style I work with, if you happen to prefer it - more cartoony and smooth.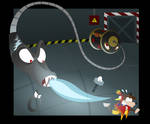 Variable ($10 or $15) - Comics
Have a funny idea that you'd love to share with everyone, but you don't know how to portray it or feel unable to draw it well? Don't worry, I have plenty of experience making comics out of other people's ideas. You be the writer, I'll be the artist! These will always be in color, but depending on the size of the comic and how much art it takes to get the joke across, the price will vary. We'll negotiate and I'll show you the works in progress to make sure it's turning out like you wish.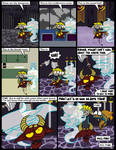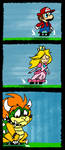 $30 - The Tribute
If you want me to draw a LOT of characters, from your favorite game/cartoon/webcomic, or YOUR characters, in one definitive image, we can work that out.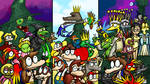 -----------------------------
That's all for now. Again, note me if you are interested. Thank you so much.
Love,
-Courtney