Mature Content
This content is intended for mature audiences.
---
or, enter your birth date.*

Month
Day
Year*
Please enter a valid date format (mm-dd-yyyy)
Please confirm you have reviewed DeviantArt's Terms of Service below.
* We do not retain your date-of-birth information.

Watch
Scene from
Danger in the Shadows Ch. 19
.
I may have went a little overboard with the blood

And I kinda wish I had used a different angle for the pose. Oh well

Basil of Baker Street (c)Eve Titus and Disney
Texture used-->
Concrete Basement Wall Texture
Commissions are OPEN!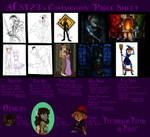 Patreon

Facebook

Instagram
ArtStation
Ko-fi

Poor Basil.
By the way the image scared my pet bird. He is now sitting on a high place far away from me.

Reply

Awww sorry I scared your poor birdie!

Reply

It's okay. He came back down for biscuit and settled down when i went to check my other deviantart account.
Reply

Ouch... he looks like he hurts pretty much everywhere.
Reply