Hey Guys!!!


My name is Nicolás.I live in Chile, and if you want to know... My birthday is in February 23th XD I'm really like make new friends here on DA :3 but also I have FA too :3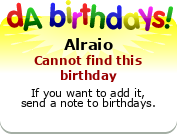 My favorites Characters: Huskies, Wolves, Fox, Bears, Dragons



Games: Osu!, Cytus, FNAF, Starcraft, Warcraft, Age of Empires, All Mario Games, Silent Hill :3
I really like Fursuits :3333333
I like Wolf ears :3333333
My FA:
www.furaffinity.net/user/alrai…
My Skype: nikodesune





Requests:

I'm so sorry :c. But soon I will open a Free request

don't worry

Commissions:

My art is very bad XD
Art Trades:

Send me a note If you want an art trade with me :3

DON'T BE SHY

My Friends:




















My cute brother :3




My favorites artist

:



Boyfriend: I don't have :333 XD
Get a FREE visitor map for your site!
METALLICA ES LA LUZZZ!!!!!