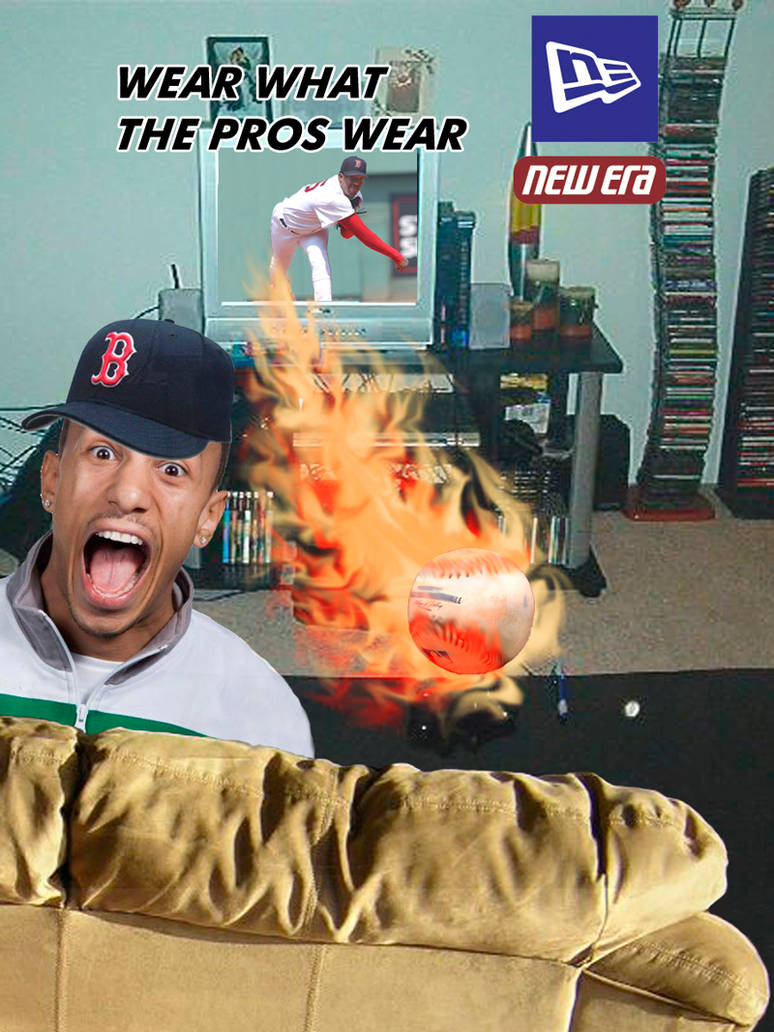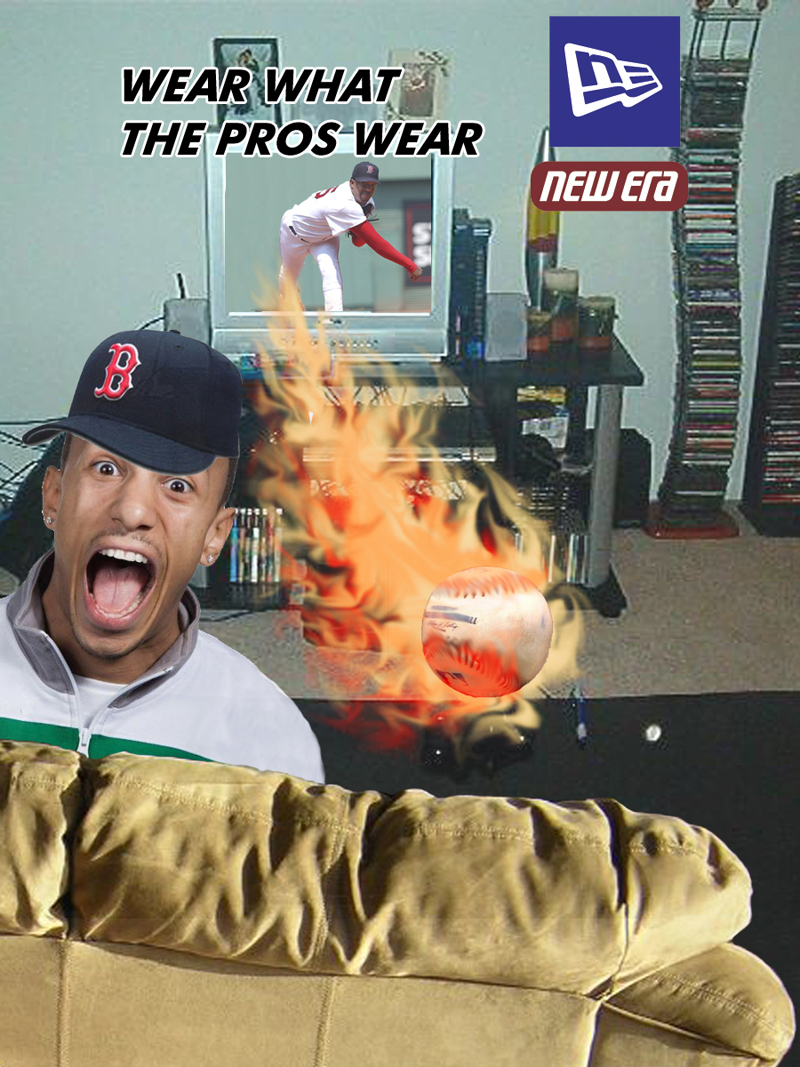 Watch
This was my final project for my Photoshop class. The assignment was to make a magazine fashion ad in a surreal style. Some people in my class went kind of crazy with 50 different photos all combined. I took a simple approach I did a baseball caps ad because I donít know much about fashion. Itís just have a guy who is at home watching the Red Sox game (probably a few years ago because Pedro Martinez dose not play in Boston any more) when Pedro Martinez the pitcher on the TV throws the ball out of his TV because heís wearing an official Major League Baseball cap. I liked my idea for this but now that I look back at it I really hate the flames coming off the ball I might do them over again but other than that I think it came out just the way I wanted. I got an A on this project too.

Very awesome.. even thou im not a big fan of the red sox lol.. haha but i do admire the fan base, cuz they are so passionate...

hahaha nice, im not the only one in photoshop class to turn in a project relating to baseball.. i made this comerica park thing about the tigers

it was an ad for advertising i think

how funny.
Reply

I did the Red Sox because I could not find a good picture of a padre pitcher throwing right at the camera and I needed that kind of picture. Red Sox fans are pretty passionate I'm going to go watch them when they come to PETCO Park this season. Tiger's hu? Ya I was not too happy when they moved out of Tigers Stadium. Tigers Stadium is still my favorite ball park of all time. Comerica Park was cool until the moved the fences in. I like big out fields and pitcher friendly Ball Parks.
Reply

Hmmm who's ur favorite padres pitcher... I was at that game where hoffy tied the all time saves rec. it was amazing. yeah that's cool man. i cant wait for the new season.. im gonna be goin to more games this season than last season.. cuz im gonna be goin up to Fresno for college so yeah gonna miss my pads. I knooooow i wanted so badly to go to a tigers game at tigers game. that stadium is sweet as hell. I love ball parks.. my whole Art history class i wrote things about the architecture of ball parks (busch, astrodome, petco, sbc... those i think were the ones..), hahaha so u like the polo grounds then man? that's hard to play in!

dude.. i wanna go see the new busch looks beautiful.. i drool over pics..

Reply

Wow that's cool I was at that game too. My favorite Pads pitcher dose not play anymore though and he's my favorite pitcher ever Stirling Hitchcock. The Polo Grounds is my second favorite ball park ever, even it the out field wall's where in the shape of a horse shoe. 560 ft to dead center field and then a 30 ft high wall that's a great field.
Reply