434 Favourites
64 Comments
5K Views
Guys, I have to say that I still have a hard time in this painting experiment AHHH ;; ;;.
It took me a lot of time to create this along with my game char design stuffs before getting back to commissions soon.
I managed this theme to be like less luxurious fantasy , more casual colorful style with
glossy hair
girls.
Please let me know if you like this painting style! It rly helps me improving my artworks

____________________________________
- Paypal Only -
*** Auction ends in 48 hrs after the highest bid ****


Winners will recieve
- Full colored adopt pic in transparent bg in both .png & .psd

___________________________________________
#01 Petite Girl - Black rose Bid here

SB : ---
Minimum bid : ---
AB : ---
Now belongs to :

(100$)
#02 Petite Girl - Pink rose Bid here

SB : ---

- You have 48 hrs for sending a payment. If the payment is declined or too late , adopts will be moved to a lower bidder instead.

I do accept a payment plan
. Please read [
this
] for more information
- You are allowed to add your own information , create your own story and also are allowed to edit her design but pls always credit 'AloNiar' for original character design.
- NO reselling for making a profit.
________________________________________________________

Other Available adopts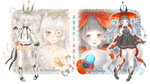 IMAGE DETAILS
Image size
1732x1189px 3.2 MB