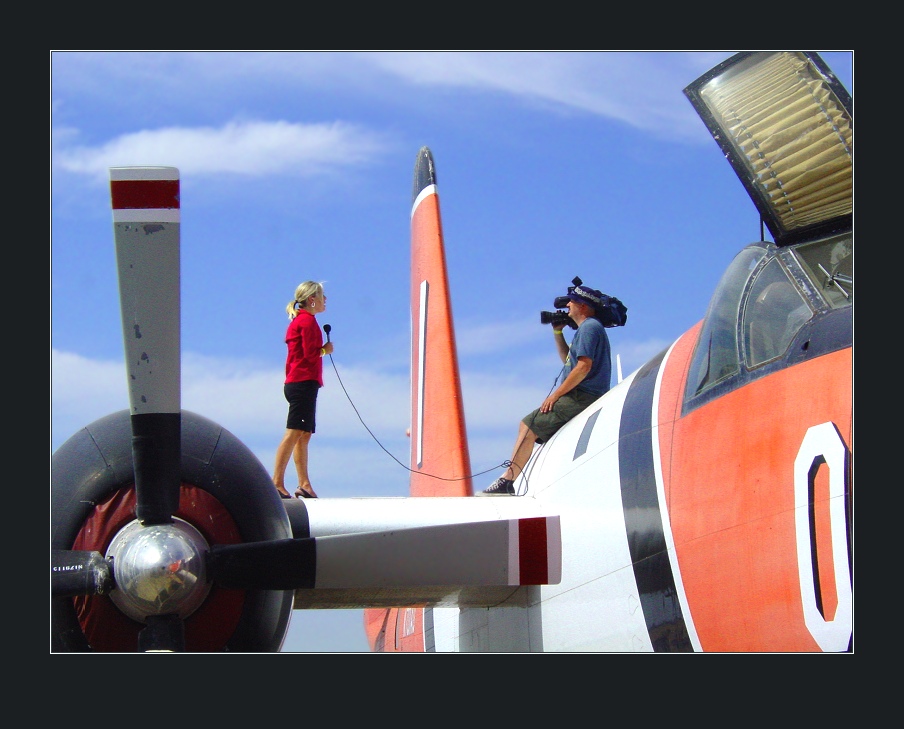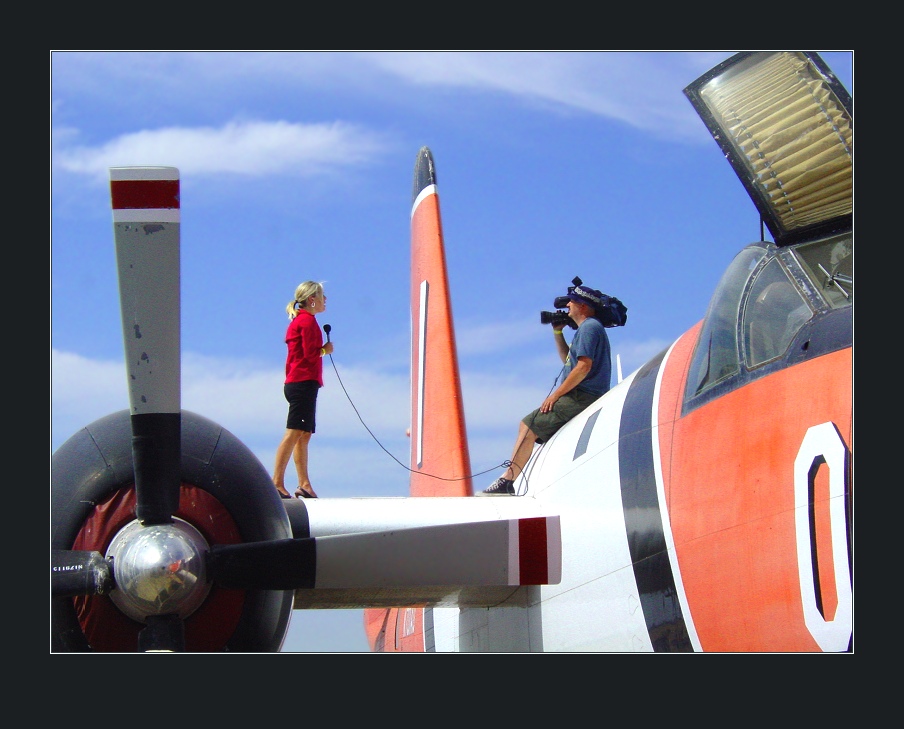 Watch
A reporter from channel 24 here in Chico doing a piece on the Chico Airshow last year in 2006.

wow i would have been terrified to do that! xD i didn't realise that reporters in chico took such risks!
Reply

We have some crazy reporters now a days... hehee... She even had high heels on!

Reply

LOL nice shot! Love the border you put around it XD
Reply

Hey thanks!

The photo just seemed to be screaming 'border' to me... I always have a hard time trying to find the right colors too so it's nice to hear when it all works out...

Reply

were you at this year's air show? i saw jets going over our house!
Reply

I was... It was nice and hot too... Especially when you get out on that tarmac... It was well worth it though, the power of those jets impress me every time... Be still my heart! I was going to go flying yesterday and today but there is no way I'm getting up there at smoke level... hack, hack cough bla! No thank you very much!
Reply

I saw your wife today...sending something fed X
I love going into your store and really will miss it when i move.
Reply

I know they are going to miss you too... When are you planning on moving?
Reply

well on the 17th i fly there and we will see what happens... i have reservations for 1 week then i cen either stay and make the money to move there ir JP will give me $$ to do it
either way, i will be going
Reply

Gee, she could have done without the high'ish heels! Safety? Not a problem.....
Reply

So is that a photo-manip.. or is that just a really huge plane?
The people look so tiny on that!
Cool photo

Reply

You had to slow your plane down for them to pass? How scarey that would be! Glad it all worked out for ya! Have you taken a video camera out on your plane and had someone to tape a flight?
Reply

hehehe thanks... It's a really huge plane with no manips in the slightest... Isn't that crazy! The other day I was out flying in the Cessna and holding short of the runway ready for take off and a fire broke out in the mountains near by... When that happens, all of these types of planes scramble and get in the air to drop their fire retardant on the fires... Who do you think was right in the way of them getting to the runway? Yup, me... hehehe... Since planes don't have reverse, I was stuck right there until all of these HUGE planes squeezed by me and onto the runway, one after the other... Every time they passed, their wings went right over my little tiny plane... I was a little freaked out but they are such great pilots that it wasn't a problem at all... So yeah, huge planes... hehehe... The reporters where kinda small too...

Reply

cool capture
interesting shot
Reply