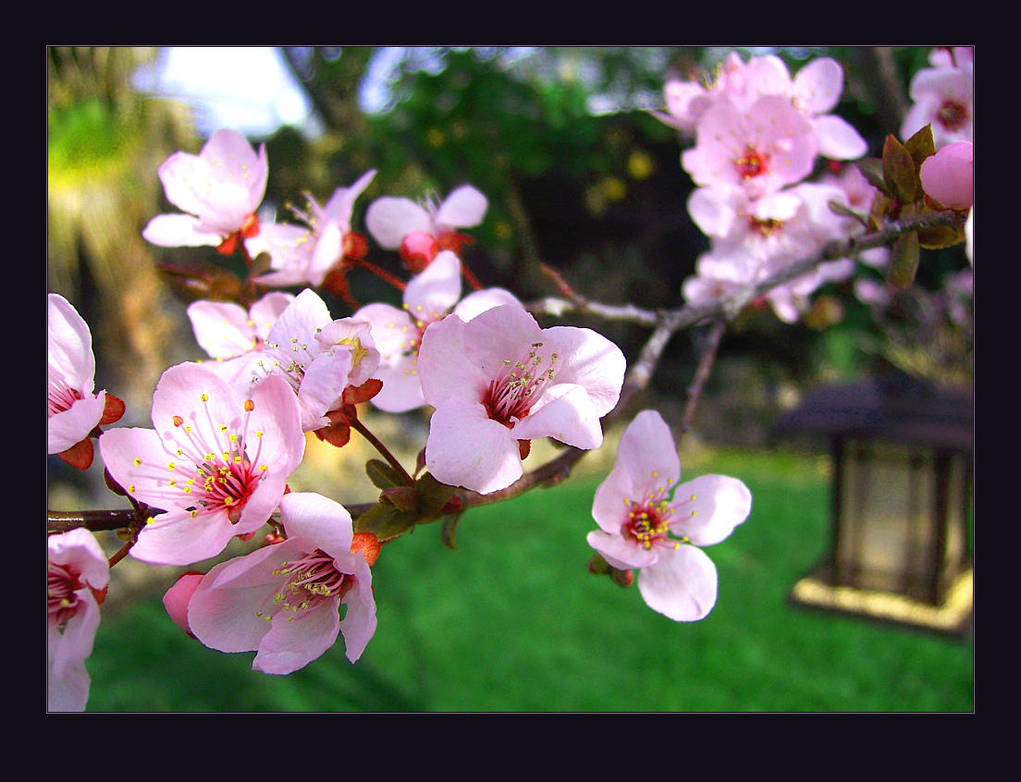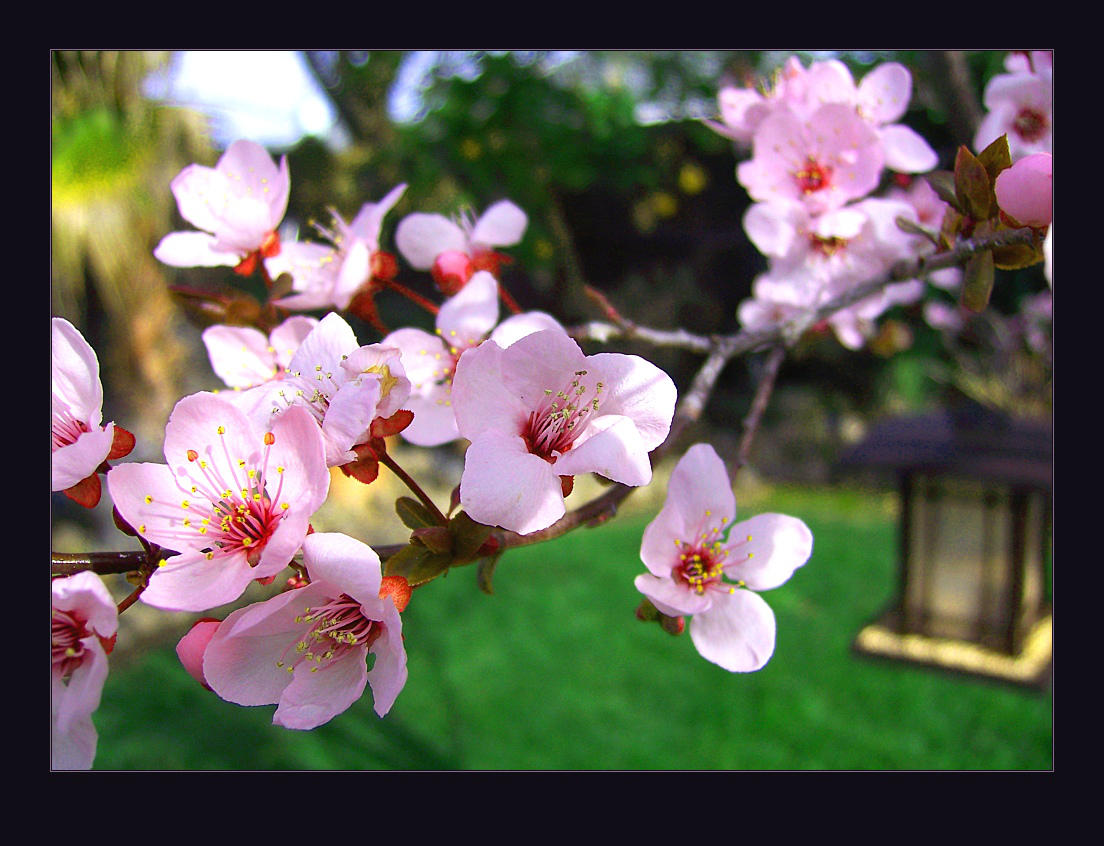 Watch
Description:
Prunus cerasifera 'Krauter Vesuvius'
(Flowering Plum, Purple-Leaf Plum)


CHARACTER: Deciduous; oval, vase-like form; moderate canopy.

SIZE: Small (Height: 20-25'; Spread: 15').

FOLIAGE: Burgundy or purple-green, serrated oval leaves, 2-3" long. Tree is bare November-January.

FLOWER/FRUIT/BARK: Many light pink, fragrant flowers, 1" across, along bare branches, bloom late January-February. Insignificant fruit. Rough dark brown bark.

Ah pretty flowers I love spring...now it's not as nice I bit too hot for me but still not as bad as it will get I suppose.
Reply

YIPPEE ! ................ IT is here ! .... well it is calendrically let's just hope that mother nature feels like it too ....

Reply

Very pretty focus on these flowers... and pink is an added bonussss
Reply

very pretty dude...nice job!
Reply

Shanks!
Have you been having fun lately?

Reply

no. never. me and fun don't go together...



YES!!! ofcourse i've been havin' some funness!
Reply

Goooooood...

Reply

have you been having fun? no more trouble at work?
Reply

All is well in the world of Jeff and Lisa... They girls at work totally had a reality check and are doing very well... They all have good attitudes and it's basically a love fest down there... YAY! It's about time too... Lis and I have been doing a ton of yard work since the weather has been in the 80's... We love yard work so it's a good thing... There is an ass load of dead things out there since we had that terrible freeze... Cut, pull, yank and throw has been our theme song the past few weeks... hehehe...
Reply

very nice! I have been photographing blossoms as well. they smell so nice!
Reply

Thanks! Yeah, the smells are so nice right now... Just wait until all the farmers use that stinky fertilizer and all of Chico smells like doo doo... Bla! That's always fun...

Reply

i really dont mind the doo doo smell really, what i do mind is the pepper-urine-ass smell of cheap perfumes and tragic men's cologne like axe and bod man

i would take the smell of manure over that any day

Reply

To be honest, I'm right there with you if I had to compare the two... No cologne for this boy... No thank you! The poo does get to me after a while though... Oh well, it's only for a short time... I remember going to a town that had a paper mill in it and it stunk 24/7... They said they where used to it but as an outsider, the stench was incredible... Then of course we have our 'wonderful' rendering plant... Blaaaaaaaaaaaaaa!!! Every time I pass that thing I roll up the windows and turn off any vent and even after that, it still makes its way inside...
Reply

yeah in Washington state just north of Seattle .P.U. paper is so toxic. and it is right next to the red hook brewery. stinky all around. a friend used to live in the wiff area of sierra nevada brewery. she said it smelled like pee-pee.
Reply

I bet if you lived near the brewery it would get annoying but I have to say for myself; I like that yeasty smell of the wert stage in the brewing process... I only get it in small doses though so that may be the reason I still enjoy that smell... Mmmm beeeeer...
Reply

i do love beer. I am a big fan of pilsner, but not like budweiser. Had some amazing pilsner in Prague and Amsterdam. great wheat beer in A'dam too.
Reply

this makes me realize exactly how ecstatic i am for spring! gorgeous picture.
Reply

Reply