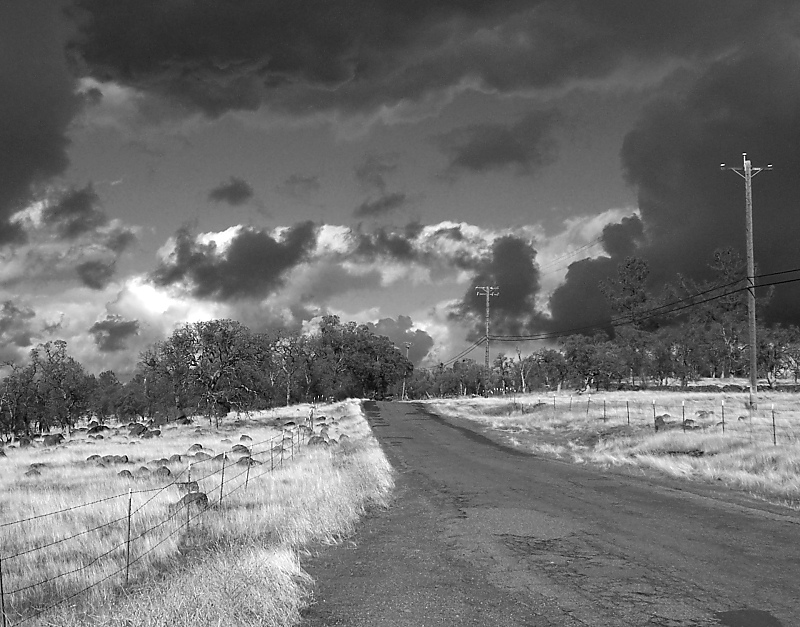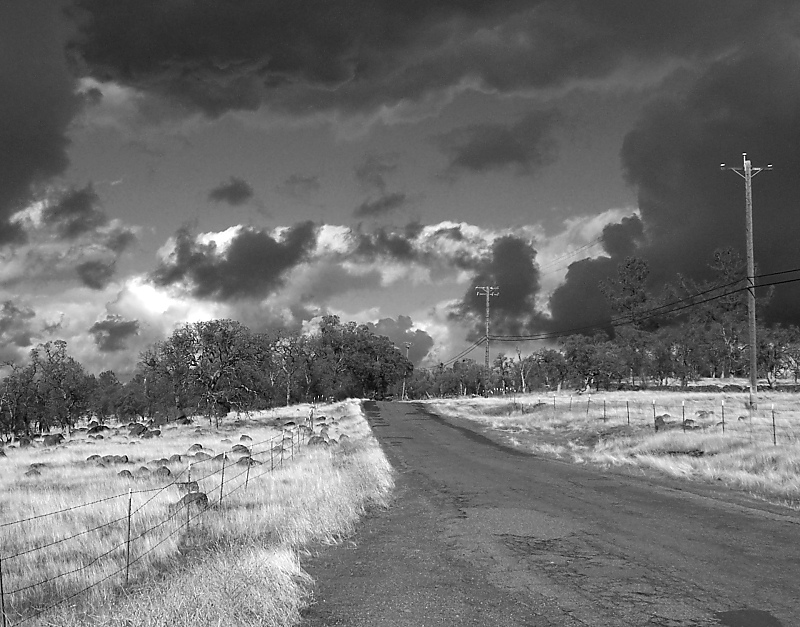 Watch
Old 32 above Chico, CA. (Old Humboldt Road)

Whoah that road does look real old.. *rides horse on it*
oops.. I don't have a horse!
Reply


Giddy up!!!
It is really old... The cool thing is along the South side of the road in the rock are wagon ruts from the settlers coming to California back in the 1840's... It's so cool!!!
Reply

oh this is cool! neat texture! the overlap of cloud colours...was that a scary storm to get caught in?
Reply

Thanks... It actually wasn't that bad where we were... The storms where up in the mountains more, leaving the foothills really cool and cloudy... In one spot, the rain was pouring down straight up above our heads yet the winds where blowing the rain east (into the hills) leaving us dry... The sun was low in the sky so it really lit up the rain streaks... It was amazing!
Reply

cool. It reminds me of another weather phenomenon that's fun to run into, when you actually are just on the edge of the rain and can jump in and out of it. I have run into that a couple times and it's great. Also a couple times we went outside after a rain and realised our house was the only one on our side of the road that got rained on! you'd think Eyore lived there or something.
Reply

Oh YES!!! I have had that happen before too... The first time was one very story day at my parent's house when I was younger... My Dad had said it was pouring as he looked out the front of the house but I was in the back part looking out and it was totally sunny... So I ran to where he was to call him crazy and sure enough, it was a downpour out the front so he came back with me and it was still sunny... NEEEETO!!!

Reply

You shoulda been here this week! We've had crazy weather and some really cool skies!!! Fortunately the huge storms that hit a town near us missed us so no damage done. There have been a few days when I whished I'd had my camera with me. One day there was a huge rainbow accross the sky the funny thing was that the clouds behind it were the blackest clouds I've seen! Many mixes of crazy cloud combinations at other times and weirdly coloured skys that I have heard occur more frequently in other parts of the world.
Reply

Ooooh, I love a good storm and it sounds like yours was among the best... (As long as people and property are safe.) It's been a good while since we have had any fun weather... I'm looking forward to it!!!
It's great to hear from you!!!


Reply

Yeah there was some property damage but nothing too bad in Winnipeg. Some other nearby towns had tornados and so there was quite a bit of damage but luckily no one was really badly hurt, as far as I know.

The one night we were quite away from home, in the outskirts of town and we heard there was gonna be a storm. We said we'd go home and we were going to take the bus but someone offered us a ride. MAN am I glad we got a ride!! it was freaky! not too bad from inside a car and in a house it would have been fun but I would not have wanted to be outside in it. We could barely see the car in front of us! That isn't compleatly unusual here in the winter from snow or in the spring or fall from fog but I've rarely seen rain come down so ferociously!
Reply

beautiful crisp photo, I can feel the weather changing and charging into a storm just by looking at it

hope youre well, sickness has run rampant through the household!
Reply

Thanks so much!

Lucky for us, the sickness hit us in December so we are all good now... Sorry to hear that you guys are getting smacked down... Blame it on the kids... hehehe....
Thanks again!

Reply

i want to be on that road ! ....... bravo darling ....

Reply

very nice contrast! beautiful photo!
Reply

Thank you very much. The contrast was the thing that made me turn that car around to drive up there...
Reply

Reply