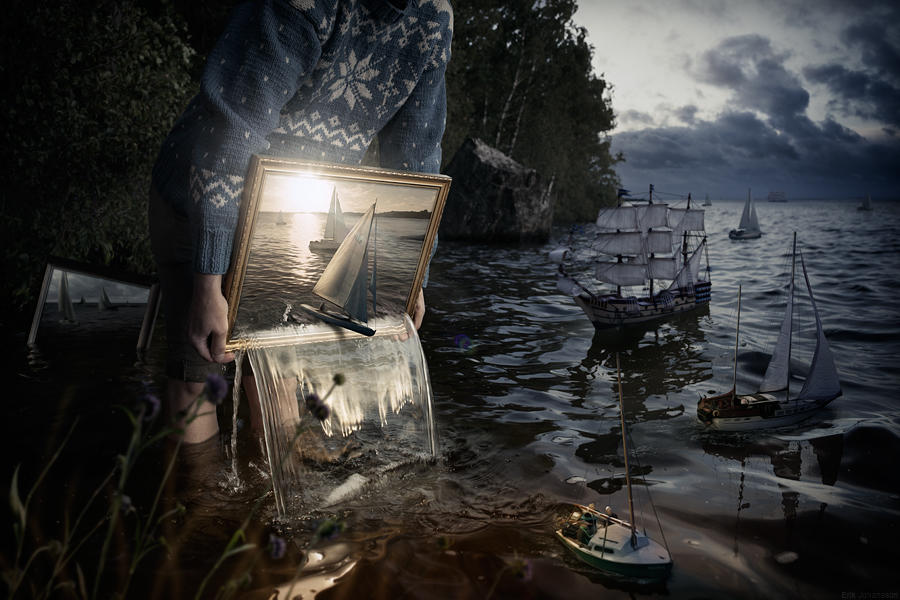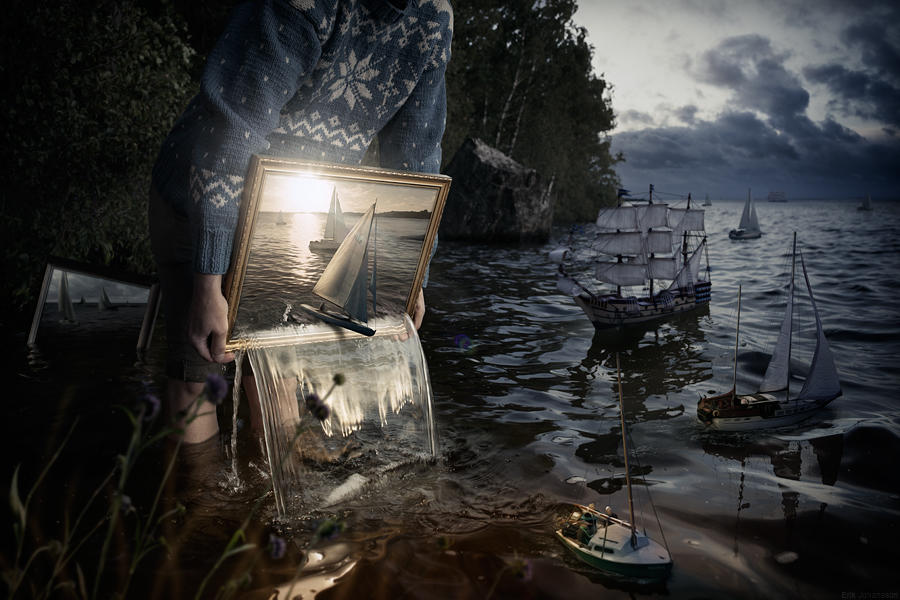 Watch
Maybe this is what "A painting too real" should have been like or maybe a sequel. Either way I felt like it had to be realized. It became quite dark, but I wanted a contrast between the warm and happy painting and the cold, free, real world. I also wanted the water effect to be as realistic as possible so I built a small container behind an empty frame that I could fill with water so the woman pouring water into the water is actually there doing that. I put a flash in the upper part of the frame to illustrate the sun and and to give a nice warm light to the area the paining would lit up. I will make a blog post about how it was made in a few days. All stock my own.
I've been working myself blind now, I would appreciate your opinion on it! Thanx!
EDIT: Thank you so much for all the kind feedback and the DD! <3 Makes me keep creating!
EDIT 2: Check out this blog post about how the photo was shot:
[link]
Daily Deviation
Given 2012-09-23
I'll avoid hollow phrases like 'awesome' and tell you that this is immediately attention grabbing and original. Even if a viewer had just been looking at picture after picture for an hour or two, like some users do (which makes each picture seem a little less special), they would still be impressed, and more importantly, INSPIRED, by this idea. Excellent job and brilliant execution; I'm very curious to read about how you did this. My only true criticism would be that not enough attention is called to the painting behind the woman. I think the idea of the water level staying the same outside and inside of the picture is really cool, and the fact that the picture frame adds boats onto the water that is inside of the frame is really cool. I hope I was able to put that last sentence into words well enough : 0 I just think that it's a cool concept deserving of more attention, but mayhaps you prefer more subtlety for it. Anyways, I find it interesting that the boats on the horizon, relative to their size, seem to be full-size boats. Maybe they are normal boats, maybe the released boats are growing? Interesting. Also interesting is the reason WHY the woman is doing this, corresponding with the title "Set them free." Maybe this woman was able to talk to the people within the frame. Anyways, this picture is magic. As with all works of magic, however, there are always more possibilities for it; I hope you make a few more pictures like this or expand off of this one to really grasp and realize more of the incredible potential within such a concept!
The Artist thought this was FAIR
134 out of 134 deviants thought this was fair.
Very special piece of work. I am a manipulator myself but i have to use other designers/photographers images. That is the best thing about your work. You use your own images which makes it that much more impressive. The vision required for this is outstanding and the lighting is perfect. The only critisim I would suggest would be the rock in the background the quality isn't great but you possibly added a blur to make the front have more of an impact. Overall a very nice piece and very well edited. The boats look very detailed and dont have that "cut out" feel when a designer takes it from another image. I have the skill to do this type of work but not the creativity it seems. Very well done.

P.S what camera do you suggest for this type of work?
The Artist thought this was FAIR
42 out of 43 deviants thought this was fair.