Interview with 123samo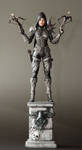 First of all, we would like to thank you for taking the time to provide AllArtSupport with this interview.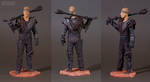 AllArtSupport

1. Tell us a little bit about yourself.

123samo

Well, I'm Samo Kramberger, I live in Slovenia/Europe, I'm 39 years old, married, and I have two wonderful daughters. I'm self employed and work as a designer, illustrator and sculptor. I'm specialized in website design, application interface design, book illustrations and in the last four years, I worked on designing casino games. I devote my spare time to sculpting.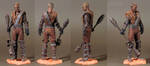 AllArtSupport

2. Why did you choose your particular Deviant name?

123samo

As my preferred nickname "realtime" was already taken. I had to go by my real name, but everything I tried was already in use. So my 123samo is just a frustrated lack of creativity.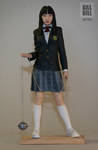 AllArtSupport

3. Why did you create an account on deviantART? What are your expectations now?

123samo

Two years ago I started sculpting Action Figures, and the majority of these figures are Fan Art, so I was really excited to get some feedback from the community. On deviantArt you can meet the padavans and the masters of art and a huge community of fan groups. I don't expect anything, it's just enough to be seen world wide.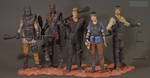 AllArtSupport

4. Could you name some of your favorite artists (of any medium, i.e. visual, musical, literary)?

123samo

Edgar Degas (as a sculptor), Auguste Rodin, Frank Frazetta, Boris Vallejo, Iain McCaiga, Scott Robertson...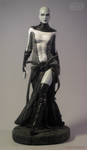 AllArtSupport

5. When and how did you start experimenting with your artistic side?

123samo

I was drawing and sculpting since I can remember. My first sculpture (elementary school) was a life size Yoda in paper mache. Never finished it, but I still have it in my basement.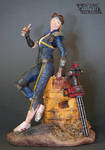 AllArtSupport

6. What artistic media do you like to use (i.e. graphite, charcoal, acrylic)?

123samo

I started to sculpt my fine art figurines in air-drying clay, but now I'm sculpting in polymer clay. My special approach is to sculpt in color clay. The figure is still painted with acrylic, but sometimes light color wash and a bit of dry brush is all it needs.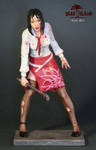 AllArtSupport

7. What does art mean to you?

123samo

I have my cycles of interests that are all spinning around art. Sometimes my focus is on watercolors, then it's sculpting, then I'm building wooden ships and then I'm completely digital for months. So all I do is in some way connected through art.


AllArtSupport

8. What/Who are your influences?

123samo

Star Wars, I blame it all on Star Wars.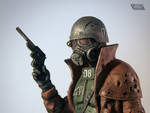 AllArtSupport

9. What inspires you?

123samo

As a pop culture fan art sculptor I'm inspired by comics, games, movies, sci-fi, horror... and of course babes with power.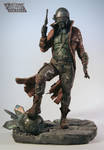 AllArtSupport

10. Of your own work, which piece has the most meaning to you and why?

123samo

I'm one of those who gets too attached to the piece I'm working on, so I can't really prefer one, but if I had to expose one, I would say "Jason" fav.me/d4ai91a, it's the first one of the action figures I did, and lately I did a mold and casted it fav.me/d4ubl1z, so one version is always staying on my shelf.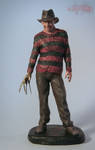 AllArtSupport

11. What are your top five favorite web pages?

123samo

www.deviantart.com


www.conceptart.org
www.cgsociety.org
www.zbrushcentral.com
www.google.com/images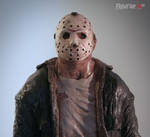 AllArtSupport

12. Could you give us an original quote?

123samo

"Undo (Ctrl+Z)—do not use it."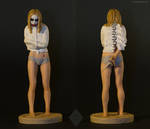 AllArtSupport

13. Do you have any advice for other Deviants?

123samo

Well, find groups that have the same interest, join them, contribute art and be active.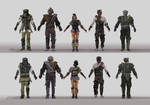 AllArtSupport

14. Is there anything you'd like to add?

123samo

I'd like to thank you The-Dormant-Sprite and AllArtSupport for the opportunity to do this interview.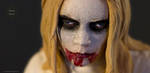 AllArtSupport

Again, thank you very much for the interview.