Aalborg, Denmark
20th of May 2019
Hello folks,
The author of ThemeEngine, Alex Zielenski has kindly given permission to me sharing the ThemeEngine application for macOS Mojave. Find it on the front page as it becomes available in a little while;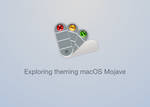 I have included a Xcode script that I have hacked together(with the help of an IRL friend that has coding expertise in an entirely different field than Swift. Thanks, Peter!) that allows the user, with Xcode installed, to create a colored backdrop for macOS Mojave based on the standard System colors that Apple has provided here:
developer.apple.com/documentat…
TRY THIS:
I suggest that you read the Xcode project and type in the wanted color in place of the following:
layer.fillColor = NSColor.systemBlue.cgColor
With a change to "layer.fillColor = NSColor.systemGreen.cgColor" you'll get a green colored background for your Finder and Application backgrounds.
WHY AND HOW?
The story behind all this workaround is that Apple apparently introduced the .caar archive format to some of their interface.
I asked the author of ThemeEngine what might be done as I've tested many ways to get around this with some success but ultimately failed in getting
it all down into a functioning formula. Alex concluded that creating a .caar file and allow for that to be applied instead of a good drag and drop or tinkering with gradients inside ThemeEngine.
The way around all this is to produce a way for ThemeEngine to allow for import of .caar files and as such have a way to give some colors back to macOS and continue the bit of theming community that is left on the Mac platform.
WHAT IS MISSING IN THIS DOWNLOAD AND WHAT IS NEXT?
Missing: An absolutely better and free way to create a .caar file. An app for macOS that can create this Core Animation Archive required for further theming of macOS (beyond Mojave even? Let's see about that after WWDC this coming June)
Also missing is a way to, at least in code to allow for a gradient instead of a plain color.
Next? Well, a little help from more Swift coding savvy people - it would be so appreciated to have someone with the brains come up with a better way to produce this rather new format and also - maybe a simplification of the Xcode project and a way to add in a gradient.
About the Core Animation Archive and visual apps to create such($$$)
There's one visual application that I know of that can export .caar files without a hitch and that is Kite Compositor by Joe Rhodes from www.kiteapp.com. This app, if you already have a license is the premier way to create all sorts of great gradients for i.e the Finder.
I've scoured the market for -that- one free (cheap?) application; it's a dead end.
What we have now is a Xcode project that we can use until something else comes along.
A SMALL TUTORIAL FOR THE INITIATED.
In this recent ThemeEngine there's now some new menu items to try. One is named Make Mica Pink Again and the other is Import CoreAnimation Archive.
Thank you to Joe Rhodes for making a trial of Kite Compositor available.
I'd like to thank Guilherme Rambo for his article here which helped me a great deal.
rambo.codes/ios/2018/11/11/ani…
A thanks goes to my friend, Peter Kjær Guldbæk, who initially helped me create the Xcode project and make it work.
And I'd also like to thank, of course, Alex Zielenski for all the help with making a ThemeEngine version that works better with macOS Mojave.
Instead of typing much more I'd just like to give out an URL to my Google Drive that has a video that, somewhat jittery, gives an insight as what to do in order to give apply color to Finder and application windows. The example in the video is System Preferences and not Finder. I don't care for relaunching Finder for each test of a color.
Link to the video mentioned:
drive.google.com/file/d/1ZrHgC…
Comment if there's something you would like to have explained. Note. I'm not a coder, like at all. I followed a tutorial and got some help and by magic it works.
Thank you all; commenters, friends and appreciators alike on DeviantART 😀
ciao,
-Allan Nyholm Nielsen.