Please check them before complaining because your work was rejected!




PLEASE READ & RESPECT
THE FOLLOWING RULES!

What kind of art can I submit to this group?

You may only submit
FINISHED
artworks

All submissions must be created and fully belong to the member who submitted it!

All skill levels are welcome here. Also Beginners!


How many deviations can I submit?

We allow
ONE submission
per day!

About the
FEATURED folder:
Here we showcase the best of
what our members have to offer.
Keep in mind, this folder is subjective!If your submission was declined here, resubmit it to another folder please.
(The featured folder is the privilege for
our admins artworks, also.)
What is a incorrect folder placement?

If the folder you submitted to doesn't match your artwork's category.
This applies to all categories like Fan Art, Manga and Anime as well.

Please make sure to select the correct folder!
It gives admins less to decline and makes the submission process much faster!

WE DON'T ACCEPT!

WE DON'T ACCEPT:
screenshots, journals, unfinished artworks, YCH's, WIPs, third party content from other websites or any advertisements at our frontpage

WE ABSOLUTELY DON'T ACCEPT:

Nudity, porn, to sexual & violent content, gore or any piece with a mature content filter on.
Mature Content: Erotic images/Porn policy:
This is art that is clearly meant to be sexual, whether it only accentuates certain body parts or fully depicts a sexual act.
This includes suggestive material such as panty shots, nipples, people touching themselves, hinted rape, having sex with other humans
or species, over-exaggerated privates, etc. Our group doesn't accept them, full stop.
We also do not accept furry, MLP, etc. porn. If the original production was intended for children,
WE DON'T WANT TO SEE PORN OF IT.
ADMINS WILL DECLINE THESE IMAGES WITHOUT COMMENT OR FEEDBACK!
MEMBERS WHO SUBMIT MATURE CONTENT CAN/WILL BE BANNED FROM THE GROUP WITHOUT COMMENT OR FEEDBACK!
ART THEFT: All the deviations you submit must be created by you, unless it is a photo-manipulation, where you have to credit the stock owners.
Why was my submission declined?
There can be a number of reasons:

Your artwork was submitted to the wrong folder.
(> This happens in 90% of cases!! Please read our guide regarding categories)

Your submission to "featured" was declined because we didn't find it suitable for our special folder.

Your artwork is too perverted/demoralizing or contains to heavy content.

Your submission was a journal, commission info, an YCH or a WIP.

Your artwork has unsightly watermarks that deface the intended image.


More Policies & Basic admin rules

Feature/ Poll /Journal Policy:
Please be aware that our Features (includes the Featured Folder as well), Polls and Journals might be subjective.
It's content is chosen by our founder and admins and might not satisfy your personal tastes.
It's content might be chosen by: skill level, colors and lighting, theme and so on... The reasons are endless...
We do not focus on popularity and it's never a criteria for choosing an artwork!
Also it does NOT mean we disrespect/ don't like your artwork just because it's not featured.
We look for very tasteful and eye catching pieces, we think our members would like to see.
Please also respect that we might not be able to satisfy every single members personal tastes!
Suggestions for our journals/polls are very welcome, but final changements only will be made,
if your suggestion is accepted by more than 50% of the admins.



Below are the basic admin rules which are followed by our team.
If there is an issue or admins don't follow them,
please report them and make a screenshot to prove it.

1. Manners:
Be polite! If an admin is acting rude, please report immediately. In addition, do not be rude yourself!
Admins can and will block you from the group if your behaviour is unruly.
2. Blood and gore policy:
If there's a small amount of blood in the artwork, that's NOT a problem. What we are concerned about is gore -
lots of blood, a person's insides hanging out, Organs heavy weapons/crime and so on - and other heavy and
offensive content. Our admins are allowed to decline them without comment or feedback.
If there are questions or issues please contact the Founder or Co-Founders. Thank you!
Also read our guides for help:

Group Tutorial: The submission process windowHello there!
I see for Deviants & Group members it might be hard to get into group features and the possibilities.
You submitted an artwork to a group? Then this topic might be interesting...
Todays topic: The submission process window and how to use it.
1. Where can I find the "submission process window"?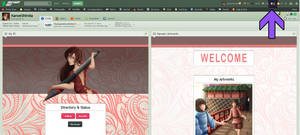 To get to the submission process window, you first need to check your correspondence.
Simply by clicking the symbol on your message center or if you have enabled the stick menu like me:


Alright, now you can see pending, accepted or declined works you submitted to a group or even 100.



In this example you can see that the submission is still pending.
It didn't got accepted or declined yet.
If you submitted accidentally or made a mistake, you still can withdraw your

DA's Category System: Help and ExplanationsHey there!
Your Artwork got declined when you tried to submit it to a group?
Your artworks categories might be the reason!


You might be confused or unsure about Deviant Arts Category System &
how you should categorize your artwork.

Explanation & Help:
Every artwork you're uploading at DA, needs to be categorized.

You're able to choose between a lot of different categories and subcategories.
Be careful now and rethink: "What is my artwork? What is it about?
Main question: What would be the best and most correct categorization for my artwork?"
Groups usually sort your artwork by the categories YOU have chosen while uploading it at Devian